Referendum fails Newly elected officials prepare for future challenges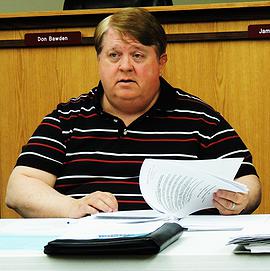 By Bob Balgemann
Reporter
BOONE COUNTY – A mixture of incumbents and newcomers have been elected to municipalities and school boards in Boone County.
Among the incumbents returned to office, in contested races Tuesday, April 7, were village trustees Jeff Goings and Ron Quimby in Poplar Grove; Alderman Clayton Stevens in Ward 1, city of Belvidere; and Trustee Kenneth Hawes in Capron.
Incumbents being denied in bids for re-election were Collin Crull, North Boone Community Unit School District Board of Education, and Michael Rathbun, Belvidere Community Unit School District 100 Board of Education.
A non-binding referendum asking District 200 voters if they wanted the school board to sell $4.5 million in working cash bonds to build a new athletic stadium at North Boone High School was defeated, with 61.42 percent voting no.
Only 12.23 percent of the county's registered voters turned out.
Newly elected to the District 100 board of education were Allison Reid-Niemiec, Holly Houk and Heather Sell-Wick. Newcomers to the District 200 board of education were Joseph Haverly, Ed Mulholland and Mary Maxey.
Another newcomer, Elizabeth Kopacz, joined Hawes in being elected to a four-year term in Capron, while Nancy Jones, who was unopposed, won a two-year term.
Neeley Erickson joined Goings and Quimby on the Poplar Grove Village Board. She replaced eight-year Trustee Bob Fry, who chose not to run again.
There were two other contested races for four-year seats on the Belvidere City Council. In those, Wendy Frank received 71.29 percent of the vote to defeat Daniel Hulina in Ward 3, while former Alderman Mark Sanderson got 60.85 percent of the vote to win over John Sanders.
Running unopposed for fresh terms were Daniel Snow in Ward 2 and Ron Brooks in Ward 5. Daniel Arevado was uncontested in his bid for a two-year term in Ward 2.
Votes of confidence
Poplar Grove voters had an opportunity for change on their village board but expressed confidence in the job being done by Goings, who is finishing his first term, and Quimby, who has been on the board for six years. Coming up short in their quest for seats were former Trustee Ed Wethington, who trailed Quimby by 25 votes, 181-156, and newcomer James Jason Vodnansky. He received 113 votes, or 12.68 percent of those cast.
Goings was the top vote getter, as he was four years ago, this time receiving 244 ballots, or 27.38 percent of the total.
"I'm glad we got back in," he said of himself and Quimby. "We will have a chance to get more things done."
He said he liked the direction the village was heading under the leadership of Village Administrator Diana Dykstra. "She's a go-getter and she communicates," he said. "She is big on transparency."
Goings plans to pursue oversight of the water and sewer plants in addition to a possible restructure of Poplar Grove's staff, which seems to have too many supervisors for the number of employees it has.
Quimby, chairman of the administration committee, joined Goings in thanking those who suppprted their bids for re-election. "I will try to live up to that vote of confidence, and serve them to the best of my ability," he said.
He agreed the village was in good hands with Dykstra running the day-to-day operation. "The whole atmosphere has changed with her in charge," he said.
Looking ahead, he said he'd like to see a continued focus on the water and sewer plants and infrastructure, especially roads. "I'd like to see economic development, but keep our rural atmosphere," he said.
Erickson thanked voters for taking a chance of her, as "kind of an unknown," and said, "I will make them proud of me."
She has some ideas she plans to discuss with Dykstra and at the committee level, some of which came from resident comments that were expressed to her on the campaign trail. Among them are:
1. Garbage cans being out of sight. She said residents are concerned about containers being in garages during the warm summer months, when the contents often smell. She termed that a potential health hazard and wondered about amending the ordinance to allow cans to be alongside homes and garages only during the summer.
2. Water bills. Residents would like to see more clarity on their bills and they'd like to know why the charges are so high?
Concerning the effort to collect delinquent bills, she thought revisiting the state comptroller's program might be worthwhile.
3. Overgrown lots were mentioned by a number of residents. She said she saw one where the grass was 32 inches high, well in excess of the village's maximum of 7 inches.
4. More information about what happens at village board and committee meetings, perhaps through including brief recaps of actions on the village website. That would help those who can't get to meetings become more informed.