Spring Art Scene makes debut in Boone County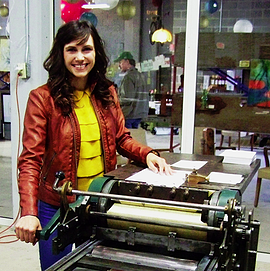 By Bob Balgemann
Reporter
BELVIDERE – The 13th Spring Art Scene was in evidence Friday and Saturday at 39 host businesses throughout the Rockford area.
And this year it made its debut in downtown Belvidere, at the Locust Street Press, formerly the Eagle's Club.
Business owner Russell Caldwell contacted the Rockford Arts Council about being one of the host sites. He received the OK and with help from the Belvidere Arts Council and Mural organization, Spring Art Scene came to Locust Street.
He said he wanted to bring this kind of an event to Boone County. It gives those who enjoy the arts an opportunity to visit many galleries over a two-day period.
"We don't have a particular angle," he said of having a particular kind of art in focus, as is the case with some venues. ""We try to be eclectic all the way around."
Wood working, caligrophy, paintings and specially designed greeting cards were among the works on display.
One of the artists was Bob Coleman with his vast collection of wooden creations. He introduced faces in books last year and those works continue to win awards. For this show he had a hand-carved caricature of Gandolf, from the motion picture trilogy, Lord of the Rings.
But it wasn't your run of the mill caricature.
It was carved on a piece of petrified wood from a forest discovered beneath a peat bog in New Zealand. He said he was fortunate enough to get a small piece of one of the trees, carbon dated to be 50,000 years old, from a friend in Rockford.
This new effort was on display with a number of his other creations, but it didn't have a price tag. "I'm not in a hurry to part with it," he said. That's probably because there's not much chance of his getting another piece of that wood.
Still, he said he would take $400 for it.
Yet another Coleman creation at the show was a face in a softball. And the most recent face in a book was that of John Wayne.
"People like to touch them," he said of those works. "They think it's made of wood that looks like a book."
Hands-on event
Caldwell's business has been on Locust Street for more than three years and has evolved into a trade printer for the art world. He operates with a variety of presses, some of them antiques, and said, "We qualify as a working letter press museum. But we generally aren't open to the public."
Last weekend was an exception with a special gift available for visitors.
He and his daughter, Heather Steines, used two presses, one from 1933, to make a specially designed, color Spring Art Scene cards with visitors' names embossed on them. The guest also was given the metal casting used to imprint the name.
Another, newer press, dating to the 1960s, was used to make ink imprints.
Visitors were allowed to lend a helping hand by cranking the presses.
There also were refreshments, munchies along with a taste of wine grown by Our Family Vineyard at a winery in Garden Prairie. Names of the wines – Florence, Birch, Lea and Charles – belonged to members of Caldwell's family, including daughter Heather's three children.
Caldwell is hoping one or more businesses in Belvidere will be a host site when it transitions to the Fall Art Scene later this year.