Winnebago School District donates 3,400 books to Crusader Clinic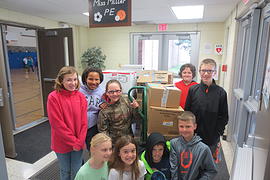 WINNEBAGO – During the month of March, students and staff in the Winnebago School District participated in a Gently Used Book Drive for Crusader Clinic. Winnebago High School made the book drive a main focus during their annual "Inspire Change" week. On April 13, thirteen students, representing both Winnebago High School (four seniors) and McNair Elementary School (nine 5th graders), delivered the books as part of a visit to the Crusader Community Health.
The books will be distributed to the Pediatric Departments at the five Crusader locations for children to take home.
"This is a wonderful project that will encourage reading to and for children", noted Linda Niemiec, Vice President Development, Crusader Community Health.
As an extra bonus the 5th graders had a bookmark design contest and selected nine different bookmarks that will be sent with the books. The entire Winnebago School District participated in the project.