BHS FFA and Ag Dept. holding Plant Sale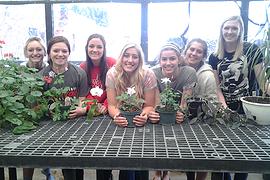 BYRON – The students in Mr. Trygg's Horticulture classes at Byron HS have been busy planting in the greenhouse. There will be a wide selection of spring bedding plants available, for purchase May 14 from 8a.m – 4:30 p.m.. The location is in the high school greenhouse, which is right across from the football stadium entrance.
Plant selection includes: perennials for $8. Perennial selection includes: Coneflowers, Black-eyed Susans, Columbines, Bellflowers, Delphiniums, Phlox, and many more. Annuals ranging from .75 cents to $5 including Impatience, Wave Petunias, Gerbera Daisies, Pansies, Dusty Miller, Begonias, Celosia, and many more.
There are many types of hanging baskets available for $20. For your vegetable garden we have Tomatoes for $1 each including Grape, Cherry, Roma, Big Boy, and Beefsteak. Peppers for $1each including Bell, Banana, Jalapeno, and Habanero. All the plants were grown in larger than normal pots. This leads to a better root system for transplanting.
All plants were grown and maintained by students at Byron High School. Come early to guarantee what you want. Many varieties sold out last year. Please be aware that it may be too early to plant them outside wit out protection from the wind and lower temps. All plants should be hardened-off before putting them in the ground.