Byron Regional Championship features occasional foes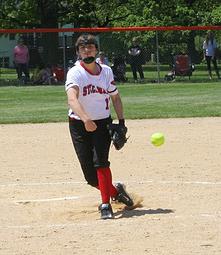 By Chris Johnson Reporter
BYRON – The Stillman Valley Lady Cardinals scored intermittently throughout the Saturday, May 23 Byron Regional Championship game against the host Byron Lady Tigers and came away with the title, courtesy of a 4-0 score.
The scoring, every other inning, paired with a top-notch performance by Stillman Valley pitcher Payton Abbott, who had eleven strike-outs in the game, was enough to come away with the win and the right to move on in the State Tournament.
Stillman Valley beat Forreston 2-0 in the Regional semi-final to advance to Saturday's Regional Championship Game.
Byron advanced to the Regional title game thanks to an earlier win over the Oregon Lady Hawks, 5-4. Rachel Bonnell picked up the win for the Lady Tigers.
The Lady Cardinals moved on to Morrison for opening round play in a battle with the Spring Valley Hall Lady Red Devils as the Sectional Round began this week; that game played on Tuesday, May 26.
Hall defeated Princeton on Saturday, May 23, 7-3, to advance to Morrison with the Princeton Regional title in hand.
The winner from the Morrison Sectional will face off with the winner from the Knoxville Sectional, with the Super Sectional contest to be played at Illinois Central College in East Peoria on Monday, June 1 at 4:30 p.m.