'El Día de los Niños' held at Meridian CUSD #223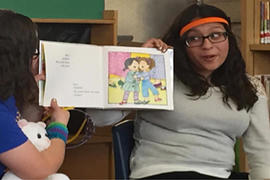 STILLMAN VALLEY – On April 30, the Bilingual Parent Advisory Committee (BPAC) and the Bilingual/ESL teachers held the annual "Day of the Children, Day of the Books" celebration which took place at Meridian Junior High School. All the elementary children from the Bilingual/ESL Program and their families participated in this special night to celebrate bilingual literacy and "El Día de los Niños." High school Spanish students presented bilingual storytelling for the younger students. There was also a craft station, where the students made paper flowers and decorated potted plants for their mothers for Mother's Day. The students then played games supervised by the fathers at different stations in the gym. The culminating dinner consisted of traditional Mexican food. On their way out, the students all received a gift, which is also a tradition on this special Children's Day.
Thank you to all the bilingual parents and high school student volunteers who helped make the night a success. The committee and teachers look forward to continuing the tradition in years to come.