Harlem-Roscoe battles blaze in Machesney Park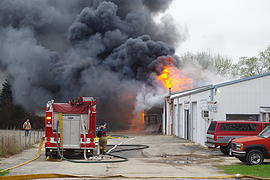 MACHESNEY PARK – Harlem-Roscoe Firefighters were dispatched to Product Road in Machesney Park for reports of a commercial building on fire with explosions on April 25.
Fire Chief Don Shoevlin praised his personnel.
"Excellent job on this afternoon's fire," he said."From the dispatch, to the truck placement, to the initial attack, to the photographers, chaplains, two probies first fire, and let's not forget our mutual aid companies.
"Quick actions of our coordinated attack and MABAS request turned what could have been a much larger incident into a manageable one.
"The results could have been much worse considering the fuel load of flammables that were in the units involved with fire. It was a six-unit building with fire involved or affecting three units and you didn't let it go any further.
"We must not forget our change of quarter companies as they responded to two calls for us as we fought this fire. The results show how hard all of you worked.
"Thank you for making HRFD who we are. A MABAS Box to the 2nd Alarm was dispatched bringing in help on scene and manning stations by surrounding departments. Thank you to all mutual aid departments that responded!