Two more seek 'bar boutique' licenses in Machesney Park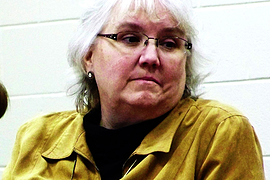 By Bob Balgemann
Reporter
MACHESNEY PARK – The owners of two more establishments in the village are seeking "bar boutique" (BB) liquor licenses so they can open up video gaming operations.
Lucky Slots is proposed for 8289 Burden Road, while Skyline Slots would be located at 7507 N. Second St.
The village's liquor commission recommended approval of both requests in separate 3-1 votes, with Commissioner Robbin Snodgrass dissenting both times.
In a related matter, the commission in another 3-1 vote recommended increasing the number of BB licenses allowed in the village from three to five. Snodgrass also voted no on that issue.
Commission action came at its May 4 meeting. The village board is expected to consider all three recommendations at Monday night's meeting.
Lucky Slots would occupy 1,200 square feet of space. Beer, wine and soda, along with limited mixed drinks, would be sold. No food would be available.
Hours are proposed for 9 a.m. to 11 p.m. Monday through Thursday; 9 a.m. to midnight Friday and Saturday; and 10 a.m. to 10 p.m. on Sunday.
The establishment's target audience is "people interested in playing video slots," according to the application. Owners anticipate low sales of alcoholic beverages.
In a memorandum to the commission and village board Antonino Bilardello, president of Nino's Investments, explained why it didn't want two bathrooms, as required by ordinance.
"The business that we are to open will have at most five video gaming terminals and a small bar that will seat 3-4 patrons," he wrote. "The maximum number of patrons allowed on the premises is not to exceed four times the number of gaming terminals. That would be a maximum of 20 patrons allowed … at one time."
He continued that from what they have seen while visiting other establishments, the average customer only stays 10-15 minutes. The average number of patrons at establishments they visited was about 10, he stated.
After Commissioner Erick Beck questioned the request for one bathroom, fellow Commissioner Ike Trickie said, "A lot of it has to do with square footage. I will support this request for that reason."
Predecent-setting?
But Beck said when there was room for two bathrooms, it should be done. "This could be a precedent-setting decision," he said of allowing just one bathroom for both men and women.
Planning and Zoning Coordinator Carrie Houston said the Alcoholic Beverage chapter of the Village Code states all premises with a liquor license should be supplied with separate and sufficient toilet arrangements for each sex.
If the village chooses to allow the request, the regulation for two bathrooms could be waived as part of granting the BB liquor license.
"Typically, the county building official only requires a second bathroom if occupancy exceeds 20 people," she said. "No more than 20 people are allowed on premises, according to the regulations of a BB license."
Commissioner Snodgrass said she opposed the Lucky Slots request because such a facility with liquor and no food should not be allowed in that area.
Lucky Slots is in village District 1, which she represents, and is close to a retirement community. "I believe residents would be very much against it," she said.
In addition, Beck said he wanted to be sure there weren't any flashing lights, with "Slots Here" inscribed on the accompanying sign.
Far less discussion accompanied the second request, from Skyline Slots on North Second Street. It would occupy 1,250 square feet of space and be open from 8 a.m. to 1 a.m. Monday through Saturday. It would open at 11 a.m. on Sunday and some holidays.
Beck raised the same question about signage.
"We wouldn't be over the top or outlandish," applicant Kenneth Tyson answered. "We have no elaborate plans for signage."
Village staff recommended approval of both requests.
A BB license in Machesney Park is for 'bar boutique' gaming and allows video gaming terminals in a small, casual space "that has more of a lounge atmosphere, rather than a bar or nightclub."