Belvidere Weekend Events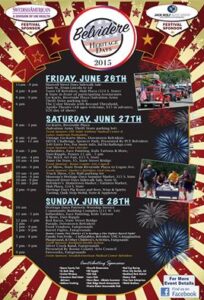 Friday, June 26
First day of Heritage Days Festival. The festival includes Maxwell Street Days, 10 a.m. to 9 p.m., harkening back to the time when that popular street in Chicago attracted thousands of bargain-hunters. Taste of Belvidere, 4 to 8 p.m., throughout the downtown. Go-kart racing, 6 to 9 p.m. on the track in the parking lot along State Street, between PNC Bank and the Salvation Army Thrift Store. Music concert at the Apollo Theater on State Street, near the Kishwaukee River, featuring The Color Morale, with a tentative starting of 6 p.m.
Saturday, June 27
Second day of Heritage Days Festival. More go-kart racing kicks off the day, starting at 8 a.m. and continuing until 3 p.m. A static display of vintage race cars will be set up near the track from 8 a.m. to 6 p.m. Another 8 a.m. start will feature one of the new wrinkles in this year's celebration, a 5K race at Spencer Park. It will continue until 11 a.m. Dari Ripple, also on State Street, will feature a variety of activities from 9 a.m. to 5 p.m. There will be pony rides from 11 a.m. to 5 p.m. Vintage cars and trucks will be back, parked on both sides of State Street from 10 a.m. to 6 p.m. There are numerous other 10 a.m. starts, such as the Brick restaurant's art show along First Street, all the way to the historic community building; the historical society museum's summer market, lasting until 6 p.m. and Maxwell Street Days, until 6 p.m. Another of the new events is Paint on State, which will allow youngsters to paint a square along that downtown street from 10 a.m. until 4 p.m. where over 150 squares on State Street will be waiting for children's creativity. For $5 you will get a bag of paint supplies: Red, Yellow, Blue, Black, White, a paint brush, a plate for mixing colors and a water cup. An inspiration sheet with instructions on mixing colors. All that's left to do is fill your 4 foot square with paint! Go to facebook.com/paintonstate for more information. The Belvidere Hometown Farmers Market will reopen for the summer, with hours of 11 a.m. to 3 p.m. And there will be a pig roast from 2 to 6 p.m. at the Mobile Quick Stop.
The Winnebago-Boone Farm Bureau Foundation will host a Charity Pull at 6:30 p.m. Tickets are $10 per person before the event and $12 per person at the gate. Tickets may be purchased at Winnebago-Boone Farm Bureau office at 1925 S Meridian Road in Rockford, the Alpine Banks in Belvidere at 600 S State Street or 1425 North Street or 1988 Gateway Center Drive. Tickets can also be purchased at the Alpine Bank in Rockford located at 6838 East State St. For more information, please visit www.belviderecharitypull.com or call Ed Kasper at (309) 208-0117.
PG Vintage Wings and Wheels Museum Introduction to Flight Youth Aviation Experience at the Wings and Wheels Campus. Advanced registration is required. For more information go to www.poplargrovewingsandwheels.com
Sunday, June 28
Third and final day of Heritage Days Festival. A patriotic worship service will open the final day of the festival at 10 a.m. at the historic community building on First Street. Activities will return to the Dari Ripple at 11 a.m. and continuing to 4 p.m. Bed races will be back, this year being held from noon until 2 p.m. on the State Street Bridge. The popular Heritage Days parade tentatively is set to step off at 3 p.m. at State Street and Logan Avenue, downtown. Events then will shift to the Boone County Fairgrounds off Illinois 76, just north of the Route 20 bypass. There will be barrel fights from 5 to 9 p.m.; kids activities from 5 to 8 p.m.; music provided by the Silver Creek Band from 7 to 9 p.m.; and fireworks from 9 to 10 p.m. Food will be available for purchase throughout the evening.