Belvidere/Boone County Food Pantry receives grant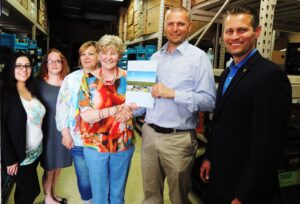 By Bob Balgemann
Reporter
CAPRON – The Belvidere/Boone County Food Pantry has received a $2,000 grant from Enbridge,
Pantry officials applied for the grant through the company's nutritious food for people living in poverty program. It was the second time Enbridge had provided funding to the pantry.
The pantry currently pays 18 cents a pound for most of its food.
Chicago Director Joe Gauderman and two Enbridge officials were at the pantry on Wednesday afternoon, June 17, to present the check.
He explained Enbridge has been involved in the business of transporting crude oil since the 1950's. One of its lines currently goes through Boone County and, overall, he said the company delivers about 2 1/2 million barrels of crude every day.
Given its local presence, he said the company likes to be a good neighbor to help improve the way of life in this area. "That's our mission," he said.
Pantry Executive Director Linda Clark thanked Gauderman, and the group for their generosity.
The pantry, at 200 S. Fifth St. in Capron, distributes food to qualified families and individuals from 9 a.m. to 3 p.m. every Tuesday. The organization also has house-wares, pet supplies and clothing, while operating a recycling center.
It served about 1,152 individuals during the month of May.
State Rep. Joe Sosnowski, R-Rockford, also was at the pantry on Wednesday. He had been touring with the company and earlier met with Capron Rescue Squad officials about having a seminar on pipeline safety in the county.