Bill to reduce juror fees caught up in legislative process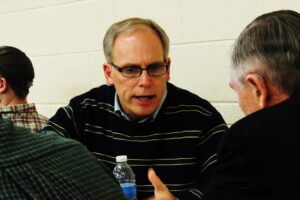 By Bob Balgemann
Reporter
BOONE COUNTY – A bill that would ease the sting of a new state law increasing juror pay continues to be pending in Springfield, but it isn't likely to be acted upon this year.
Senate Floor Amendment 3 to House Bill 2641 has been referred to the House Rules Committee, which means it still has to go through the committee process. That probably won't happen, what with the General Assembly now meeting sporadically with no agreement having been reached on a 2015-16 budget.
The 2015 session was to have ended May 31; legislators went off the payroll effective June 1.
State Rep. Bob Pritchard, R-Sycamore, Rep. Joe Sosnowski, R-Rockford, and Rep. John Cabello, R-Machesney Park, along with state Sen. Dave Syverson, R-Rockford, all voted against voted against the bill dramatically increasing juror pay. It became law earlier this year.
In the past, Boone County paid jurors $12 a day and 10 cents a mile for their service. The new law increased the pay to $25 for the first day and $50 for each succeeding day, with mileage being eliminated.
Circuit Court Clerk Linda Anderson, appearing before the county/s administrative and legislative committee June 4, said a jury trial held in January 2015 cost $780, while one late in May, under the new law, cost $1,825.
Boone County in 2014-15 spent $47,000 on jury trials.
The measure that's pending in Springfield would reduce the cost to $20 per juror for the first two days and $32 for each succeeding day. It is proposed that $15 be added to the cost of civil cases to help defray that expense, she said.
Related board action
The county board on June 17 approved keeping the $212.50 fee in place for civil jury trials, even though the state decreased the number of jurors from 12 to six effective June 1.
In addition, the fee was reduced to $25.
"This makes the fee stay the same, so you don't lose any money," Clerk Anderson explained.
The board also imposed a $35 fee on any litigant who wants to have an alternate juror present at civil trials. A maximum of two alternates may be requested, with a total charge of $70.
Andereson said the $35 charge is the same as is in effect in Winnebago County.
Building safety
Also June 17, the board voted to put in four bollards in the public safety building parking lot off Main Street to prevent anyone from driving into the building.
The 12-inch pipes, anchored in place with concrete, will take the place of a tree that once protected that part of the building, board member Cathy Ward explained.
Stenstrom Excavating and Blacktop will do the work for $3,600.
While board member Kenny Freeman thought the cost "seems high to me, if it's needed, all right."