BYRON FFA honored at State convention
SPRINGFIELD, IL – The proud traditions of Illinois FFA sparked the ambitions of the Byron FFA Chapter during the 87th Annual Illinois State FFA Convention. The chapter joined more than 3,500 members from across Illinois in Springfield to receive some of the organization's highest honors and renew their commitment to agriculture.
"Proud Traditions Sparking Ambitions" was the theme of the three-day event, focusing on award ceremonies, motivational speakers and the election of the new major state officer team. Students at the convention were greeted with a multitude of activities and opportunities, such as an exhibit hall featuring colleges and businesses, an evening dance and talent show, and the historical aspects of the state's capital. National FFA Secretary Victoria Maloch, of Arkansas provided remarks.
The FFA convention celebrates the annual successes of Illinois chapters and members, elects a new state officer team, and conducts the annual business session before beginning a new year. These proud traditions sparked the ambitions of members for the upcoming year.
Awards presented to the Byron FFA Chapter include:
GROWMARK Essay-Runner Up – The GROWMARK essay contest encourages students to explore current issues in agriculture and improve their writing skills. The winning student receives a $500 award and their chapter receives a $300 award. Four runners-up each receive $125. This year's theme was "Exploring Careers in Agriculture" and students were asked to choose a career of interest and interview someone working in that field.
Diversified Agricultural Production State Proficiency Winner
Ryan Reeverts is the son of Terry and Pam Reeverts. His FFA advisor is Eric Tryggestad. Ryan has an 11 sow swine operation used to produce show pigs as well as market hogs for private customers. He also raises and markets 2.8 acres of sweet corn and 260 hills of Yukon gold and red Pontiac potatoes to local farmers markets, grocery stores and customers. To round out his highly diversified operation, he has a forage production SAE, doing custom raking and baling for a neighbor and farming a small grass mix field to sell to small animal customers.
The Illinois Association FFA is part of the National FFA Organization, formerly known as the Future Farmers of America. More than 17,500 students are in enrolled 326 different FFA chapters in the State of Illinois. FFA is a national youth organization of 557,318 student members – all preparing for leadership and careers in the science, business, and technology of agriculture. The FFA mission is to make a positive difference in the lives of students by developing their potential for premier leadership, personal growth and career success through agricultural education. Visit www.illinoisffa.org for more information.
About the Illinois
Foundation FFA
Illinois Foundation FFA engages individuals, industry, education, government, and foundations in securing funds to support quality Agricultural Education and FFA programs in Illinois, including providing awards at the State FFA Convention. To learn more about becoming involved, visit www.illinoisffafoundation.org.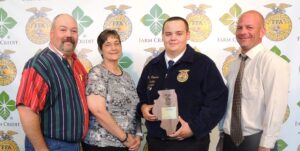 Courtesy photo
(L to R) Terry and Pam Reeverts, parents, Ryan Reeverts, FFA member, and Eric Tryggestad, advisor pose for a picture after Eric received his award.