Candlewick hosts Kids and Fathers Fishing Tournament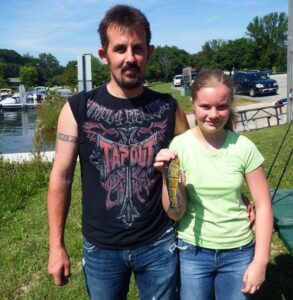 By Barb Appelhans
Reporter
CANDLEWICK LAKE – Father's Day at Candlewick Lake started out with the traditional "Kids and Fathers Fishing Tournament."
The event consisted of four age groups: three-to-six-year-olds, seven-to-nine-year-olds, 10-to-13-year-olds, and 14-to-16-year-olds.  Prizes and trophies were awarded to the largest, smallest, and most unusual catch.
Analiese Lewis, 12, won not only the most unusual catch with an eight inch bass lure, but also the biggest catch with a 15 inch bass.
Some of the other family fishing enthusiasts included Chase Morgan, 15, and his dad John Kloeckner, Mason Leske, 7, and his dad Erick, and Aiden Eby, 9, and his dad George.
Candlewick Anglers Club hosted the tournament with a variety of other 2015 sponsors. The sponsor list includes, Friends of Candlewick Lake, Poplar Grove Hardware, and Bass Pro Shops.
The event was also made possible through the volunteer efforts of the Lake Management Commission of Candlewick Lake.