Kids learn about pets and more at Safety Town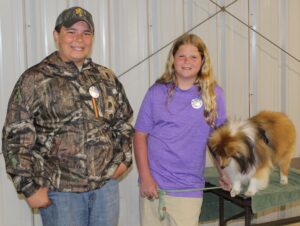 By Rhonda Mix
Reporter
On June 12, 52 children showed up at the Grange Food Pavilion at the Boone County Fairgrounds to participate in the final day of the 14th annual Flora Grange Safety Town Day Camp.
The themes of the day included water, sports and pet safety, and also featured a craft area.
Volunteer Joey Prokop, a 13 year-old, who used to attend the Safety Town camp himself, is in his third year assisting with the camps. He said he believes the Flora Grange Safety Town Day Camp is really educational for children. In particular, he thinks the pet safety section of camp is important.
"As much as everyone thinks they know about pet safety, there are little things you may miss," he said, adding that sometimes children may not be aware about things that can cause a pet to scratch, for example.
"The camp also teaches you why you shouldn't swat at animals and stuff like that. And that you should be careful and ask for permission to touch someone's pet," he continued.
Marilyn Johnson, training coordinator and instructor at Belvidere's Meyer's Kennels, led the pet safety section of the camp with the assistance of Sarah Prokop, another former camp member. Johnson talked about pet safety while using a live dog as a visual aid and later showed a video.
Though Joey Prokop said he learned a great deal while he attended all the camps, he thinks he learned the most in the pet safety camp.
He said his favorite camp was related to fire safety."It was cool when I saw the firefighters."
Open to children between the ages of 5 and 8, the four-day, two-hour camps were implemented 14 years ago by Jack and Laurel Ratcliffe and the Flora Grange. The camps were started as a way to provide additional "necessary" safety education in the community, said Jack Ratcliffe.
"The response to the day camp has been very good, sometimes there are up to 100 kids at each camp," he said.
"This age group wants to learn and the kids are very attentive."
He added that the Flora Grange tries to keep up with current topics and strives to keep the camps interesting for children.
"We started this camp right after 911," added Laurel Ratcliffe.
"I think it is very important for children to have safety in their little noggins at all times."
The daily camps are divided into four different subject areas, and four groups of children take turns rotating through each section. Many Flora Grange members also come out each year and help assist with the varying daily events.
The other camps this year included weather safety with Candice King, fire safety, learning how to read safety signs and labels, a camp on self-image and feelings, bike safety and alcohol and drug safety.
Illinois State Grange Legislative Director, Marion Thornberry, said he believes the camps are becoming increasingly important.
"A lot of programs in our own schools have been eliminated and downgraded," he said.
"This is an opportunity for kids to learn safety aspects that [they might not get otherwise]."
For information on future camps, visit grange.org/florail1762.