Mary L. Reynolds,86, of Capron Ill.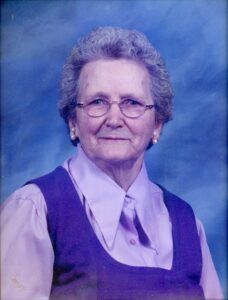 CAPRON – Mary L. Reynolds, 86, of Capron, Ill., died Sunday, June 28 at Amberwood Care Center in Rockford, Ill.
Mary was born May 10, 1929 in Mauston, Wis., daughter of Ivan and Doris (Rhodes) Grover. She married Frank Reynolds on March 23, 1957 in Harvard, Ill.
Mary was employed by Admiral in Harvard and Parson's Casket Company in Belvidere, Ill.
Mary was a faithful member of Capron Lutheran Church and the Belvidere Moose Club. She enjoyed cooking, baking pies and dancing, especially polka dancing. Mary was always trying to help people, and had a true love for people.
Mary is loved and will be missed by her daughter, Sherilyn (Jim) Campbell; grandchildren, Debbie (Jeff) Hicks, Jim Campbell, Brian (Terri) Campbell; great-grandchildren, Jeffrey, Bobby, Josh, Kelsey, Courtney, Hailey; sister, Shirley Cline; several nieces and nephews. She is preceded in death by her parents, husband, Frank, son, Danny, several brothers and sisters.
Memorial service will be held at 11 a.m., Friday, July 3 at Anderson Funeral and Cremation Services located at 218 W. Hurlbut Ave., in Belvidere with Rev. Dan Schenck officiating.
Visitation will be held at 10 a.m., until the time of service. Memorials may be given to Capron Lutheran Church in Mary's name. To light a candle or share a condolence, please visit www.AndersonFCS.com.