Meyer's Tails up Farm hosts annual Kids and K9s Camp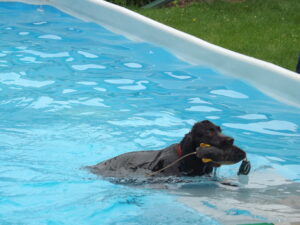 By Kathryn Menue
Editor
BELVIDERE– Meyer's Tails up Farm, located at 5390 Irene Road in Belvidere, hosted the 8th annual Kids and K9s Camp for 6th, 7th and 8th graders this week.
The camp occurred Monday, June 15 through Friday, June 19 from 9 a.m. to 3:30 p.m. each day.
On Wednesday, June 17, the kids continued practicing the basic training commands. Each child was paired with a dog from the doggie-day-care or one of Director Marilyn Meyers's shelties. Each child worked with the same dog everyday and then gave a presentation about their breed of dog on Friday.
The top two presenters won special prizes.
Marilyn Meyers said that they get permission from the owners to use their dogs from the doggie-day-care because they know that all those dogs know the basic commands. The children at the camp got to work with experienced and trained dogs instead of uncontrollable unruly ones.
"It allows children to build a relationship with the dogs," said Meyers. "All the kids fall in love with their dogs."
All the children received a leash to use for training their dog at home and each received a commemorative T-shirt.
Also on Wednesday, the children witnessed a dock diving demonstration from presenter Sandy and her dog Banjo.
Banjo is a Boykin Spaniel and has won two hunting titles and 2 rally titles and is working toward a championship title.
About 15 children attended the camp and were able to enjoy the splashing water that Banjo kicked up every time he jumped into the outdoor pool set up in front of the Meyer's training facility.
Shrieks of laughter sounded through the open field each time Banjo made his big splash, dousing the children with huge waves of pool water.
"He [Banjo] knows what he's got to do and he's really excited about it," camp instructor Donna Anderson said about Banjo and his diving demonstration.
Some other of the activities the kids experienced at the day camp included: teaching basic training commands, learning simple agility, teaching a dog how to track, meeting therapy dogs, swimming fun, presentations by animal experts, art projects, and K-9 nose work where dogs solve the puzzle on how to get treats out of a box.
The Meyer's Kids and K9s Camp gives kids a unique opportunity for hands-on interaction with dogs which is not only fun, but aids in the learning process.
Kids leave camp with a greater appreciation and understanding of how to effectively interact with dogs.
Kids even return multiple years in a row to brush up on their pet training skills. Out of the group for 2015, three children attended for a second or third time at the camp.
Even their camp counselor, Casey, returned as a volunteer after going through the camp program herself.
For the trainers and volunteers at Meyer's the camp is worth it to see the bright smiles on the children's faces as they learn important techniques on training their dogs.
"There just really good kids," Anderson said.