New 9-hole disc golf course opens at Harlem High School
By Bob Balgemann
Reporter
MACHESNEY PARK – It all started last year during a random discussion in a boys physical education class, about how nice it would be to have a disc golf course around Harlem High School.
Physical education instructor Luanna Kish was contacted and she got the ball rolling, through telephone calls, research and obtaining the necessary permissions.
Now, a 9-hole disc golf course is open.
There are six holes in front of the school, and three behind it, ready for those who enjoy a challenge. They range in distance from 235 feet to more than 400 feet.
Ryan Boeke, Byron Bunch and Tyler Flaningam, who graduated in May, had played disc golf and were among the group in PE interested in undertaking such a project.
Coach Kish said she called the folks at the Porter Park disc golf course in Roscoe and was referred to Machesney Park resident Mark Boesen. He's an avid disc golfer who ultimately designed the Harlem course.
"We walked the school (grounds) for about two hours, looking for the best layout," she recalled. "Then we rewalked it and changed it. Countless hours were involved. We (ultimately) went with his knowledge."
Boesen walked off the number of feet from tee to receptacle on each of the nine holes.
The first hole is 235 feet long. Some accuracy is involved, with threading the needle between two trees, and directing the driver disc to the right, important to making a par 3.
There are no water hazards or sand traps on the course. But there are some trees that make a few of the holes, especially No. 5, challenging.
The first round was played over spring break. "The weather was decent," Byron said. "A little cold, but worth it."
No course records are being kept to this point, but the three grads said it's only a matter of time before that happens. And no hole in one had been recorded going into the month of June. "I've come close," Ryan said.
Getting started in disc golf is not an expensive proposition.
4 kinds of discs
There are four different kinds of discs, available at sporting goods stores and Walgreen's. A distance driver disc costs about $7, with Byron saying a starter pack would run about $30. Some prefer to use MVP Disc Sports golf discs. It depends on the player.
The pack would include a distance driver, fairway driver, mid-range disc and putter disc. The main difference among them is size and weight. And they differ from a Frisbee in that they are heavier and less affected by wind.
"You could play with one disc," Byron said.
Each tee has a number, distance to the "green" and name of the sponsor. In the case of hole No. 1, the sponsor is Harlem Student Council, which donated $1,000 to the project.
Hole 9 is dedicated to Boesen.
The beginning of each hole at a traditional golf course has two or three tees of varying lengths toward the green. Same with a disc golf course. There are two tees, for beginner and novice players.
Hole-ending receptacles have strings of chains designed to snag a disc as it passes by.
Ryan, Byron and Tyler agree holes 9, the longest at more than 400 feet, and 5, with a number of trees serving as obstacles, are the toughest on the course.
The three are bound for college this fall with Ryan going to Rock Valley College, Byron to Iowa State University and Tyler to Michigan Technological University.
They've all been playing disc golf for a number of years and said they would be returning to Harlem for more rounds on the course they helped make a reality.
Ryan and Tyler approached Harlem Township last year and left with a pledge of $1,500 toward the project. Other sponsors included the Harlem Fans Club, Harlem High School and Harlem Athletic Department.
In addition, coach Kish offered "a big thank you" to the high school grounds crew for putting in the tees and receptacles at the holes. "We walked it off," she said, "but the crew put it in."
The disc course is open to the public, at no charge. With school being closed for the summer, there are no specific hours during which the course may be played.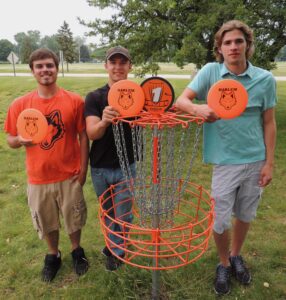 From left – Ryan Boeke, Tyler Flaningam and Byron Bunch stand at the recptice "green" of the new disc golf course at Harlem High School, all holding discs used to play the game. The 9-hole course is open to the public at no charge.