Open house Tuesday for longtime county food inspector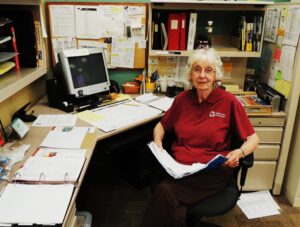 By Bob Balgemann
Reporter
BELVIDERE – She went to work for the Boone County Health Department at an age when some were taking retirement.
That was 25 years ago and now, longtime food inspector Marj Graves is retiring. An open house in her honor will be held from 3 to 6 p.m. Tuesday, June 23 at the historic Belvidere Community Building, 100 First St.
"We chose to host Marj's party at the community building because she has interacted with so many residents throughout her career, and we hope they come out to wish her 'good luck,'" said Cynthia Frank, health department administrator.
"She has done well. She is recognized everywhere she goes."
"I get feedback on how fair-minded, helpful and courteous she is," said her boss, county Environmental Health Director Bill Hatfield.
"That [quality] in a situation where people don't want you to be there. Food inspections need to be done when the food is being prepared, so it can be disruptive when she is there, doing her job."
From Graves' viewpoint, it's all about being a people person. And she said she's been just that for a very long time, going back to the days when she was a hair stylist and operated Wahl's Beauty Shop for 25 years, at two different locations in downtown Belvidere.
But problems with her hands took that vocation away from her and while she maintains her cosmologist's license, she only has family clients these days.
One who had worked since she was 12 years of age, she wasn't close to being ready for retirement at 57. She saw an advertisement for a health inspector and applied. Administrator Carol Klint thought she could do the job and hired her.
It wasn't a good fit at first, Graves recalled, because of her demeanor as a people person. She wasn't much on always telling people what was wrong and what they needed to do to be food safe.
"She figured out how to make a positive out of a negative," Frank said.
Small office to start
When she started in 1990, Hatfield was new to the health department and they shared an office in the basement of courthouse. "The desks were against the wall and the chairs were back-to-back," he remembered.
She started with inspecting wells, septic fields and tanning salons, plus educating people on the importance of environmental safety. Around that time the number of inspections increased dramatically, primarily because of there being more weekend events.
So Graves went from what was supposed to be a part-time job, lasting only a year or so, into full-time service.
There currently are about 300 establishments in Boone County, all of them making food available to the public. The list includes restaurants, churches, schools, taverns, golf courses and daycare operations. Her territory extends all the way to the Wisconsin state line.
"If you serve food to the public you need a permit, or an exemption from a permit," Frank said.
Graves' last day is June 30, so she'll be out and about at the city's popular Heritage Days, planned for June 26 through June 28.
Now 82, and having held some kind of a job for the past 70 years, she isn't ready to start taking it easy. "I have a lot of things on my plate," she said.
Heading the list is helping her sister move. Then, there will be gardening and sewing projects needing her attention, and cleaning out the garage, too.
The health department may fit in on that list as well. There's talk about retaining her as a part-time consultant and "giving her the option of working weekends," Hatfield said.
Is she interested in doing that?
"Maybe," she said.
Might she be inspecting food vendors at the poplar Boone County Fair, coming Aug. 11 through the 16? Another, "Maybe."
One thing that's definite is her presence at Tuesday's open house, where there will be a special presentation at 4:30 p.m. "The 23rd is a day of work, so I better show up," she said.