Stillman Valley Lion's Club gives back to the Meridian Education Foundation
STILLMAN VALLEY – The Stillman Valley Lion's Club gave the Meridian Education Foundation a check for $2,515.76 for the can recycling program on June 3, 2015 at the Cardinal Cafe in SV at their monthly meeting. The Lions Club collects aluminum cans at Highland Elementary School. The Education Foundation appreciates the surrounding communities and SV Lion's Club for their continued support.
If you would like more information regarding the Meridian Education Foundation or if you would like to donate, please contact Heather Alderks 815-645-2277 or halderks@mail.meridian223.org.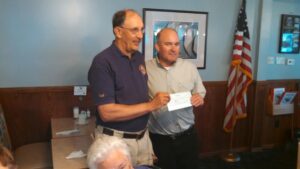 Courtesy photo
Principal Mike Coulahan accepting the donation check from Curt Freeburg of the Stillman Valley Lions Club on June 3, 2015. The donation came from club can recycling program.