Youth explore God's love at 'Son Spark' Vacation Bible School
By Marianne Mueller
Reporter 
ROSCOE – Sally Scientist (Milan Bergstrom) and a likeness of Weird Science's DeNy the Science Guy (Pastor Paul) opened doors to the Son Spark lab at the Roscoe United Methodist church. Youth spent a full week exploring the wonders and effects that God's love has on each of us.
One hundred and seventy young ones attended, each under the direction of 45 volunteers and 45 youth leaders who led in exploration.
Both indoor and outdoor demonstrations came in forms of motion detections, utilizing a balloon to sense resilience and receptiveness, plus a super hyper Gysmatic accelerator 3001 which was designed by some of the Methodist men. Another style was the mega power alteration accelerator which defeated a standard version.
"We experienced gravity with creation to see what the cause and effect of sin that separates us from God is like. This is the motion that moved us out of sin and the transformation of nature. A chain reaction happens when God's love takes over," said Director of Education at the Roscoe United Methodist Church, Milana Bergstrom.
Young ones donned goggles, and discovered images under the eye of a magnifying glass. An experiment using tile and sharpies sprayed with alcohol caused a reaction.
Marbles were placed into paint and rolled to create a picture displaying motion, and by dripping paint gravity was used to create abstract pictures. Each Scientist also designed a personalized picture frame.
Pictures of Edison's light bulbs reflected back in time in an educational lesson. Minds were also sharpened through Bible stories, learning songs, games, crafts and snacks. Interactive outdoor games, added extra fun options. Second graders went digging for fossils in the snack lab.
A Guinea pig had many visitors in the lab. Three rooms full of pre-school aged children listened to story tellers, learned from music leaders and received visits from science teachers.
Uncovered on this journey were missions and ways of helping other people. By coming together over 150 items were collected for the Old Stone Church food pantry. Clothing was given to Holly's Kids 16:49 and donations were given to Bundled Blessings.
Additionally $150 went toward obtaining clean water wells in Haiti. By giving back donations will be used toward a most noble purpose of being like Jesus," Bergstrom said.
Special guest 28-year-old Kris Grahnke spoke to the crowd at the Son Spark lab. Grahnke shared his personal journey of what it is like to live with ALS. He called his wheel chair "Jeff."
His message brought home the importance of what Science can do for people through medication and what his wheel chair, and wheelchair accessible van does to assist him. Grahnke is a Special Education teacher at Whitman Post Elementary School.
Pastor Paul pointed out a construction paper chain that was assembled by participants. "This chain represents the promise that we have made that we would love God and each other," he said.
Bergstrom looked back on this year's vacation Bible School." What made the week the most fun were the participants," said Bergstrom.
Celebrating a week of Son Spark Vacation Bible School a fun fair took place on Saturday, June 13. The bounce house, face painting, slushies, lunch and various games extended good times. Children looked around and took turns spraying water hoses on a vintage fire truck.
During a Sunday morning church service participants performed songs and accompanied moves learned.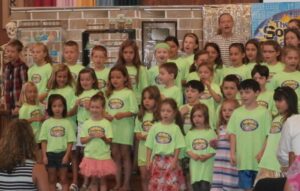 Marianne Mueller photo
Young ones who took part in Son Spark Vacation Bible School shared songs they learned with the congregation on Sunday, June 14.