Health Department hosts produce market, wellness fair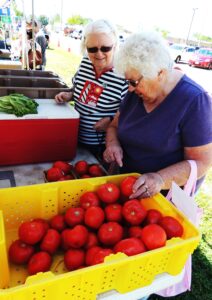 By Bob Balgemann
Reporter
BELVIDERE – The Boone County Health Department for the past seven years has hosted a farmers market in the grassy area off Logan Avenue, just past the county administration building
Amanda Mehl, the department's director of personal health services, said this year the market, held July 21, had been expanded to include more wellness activities and educational opportunities for visitors.
In addition, the Belvidere Fire Department displayed its ladder truck for all to see.
If there was a recurring question for those selling various kinds of farm-fresh produce it was when can we expect sweet corn to be available? The answer from Susie's Garden Patch in Garden Prairie was, "end of the month."
Quite a few spent time at the produce booths, such as sisters Judy Anderson and Nancy Hollingsworth, both of Belvidere.
It was Judy's first visit to the market, while she said her sister had been there before. "It's very nice," she said.
The sisters wound up buying some fresh tomatoes.
Twenty community organizations and businesses participated in the event, providing cooking demonstrations, exercise and fitness tips and free blood pressure screenings. In addition, the fire department did free car seat safety checks.
There also were representatives of chiropractic services, Rockton Adventures, which offers paddle sport rentals and trips, and Catholic Charities.
Community painting
The Catholic Charities booth had what was billed as a "community painting." Passers-by were asked to take paint brush in hand and etch something small they thought would be fitting for them, their part of the county or family.
While the location wasn't definite July 21, the painting most likely will wind up inside, possibly in the Catholic Charities office in Belvidere.
Belvidere Park District had a booth and employees were updating visitors as to what's going on in that busy place. Probably the biggest news they're 50 percent completed with the skating rink at Doty Park, with a grand opening tentatively planned in December. They're opening to have that coincide with this year's Hometown Christmas celebration.
The splash pad part of the rink is expected to be ready by the summer of 2016.
Women, Infants and Children's (WIC) coupons obtained from the health department and paper dollars coming from the Keen Age Center in Belvidere were used to purchase goods at the market.
Health department officials are hoping their market will go from No. 2 to No. 1 when it comes to the rate of coupon redemptions.
The Illinois Department of Public Health (IDPH) in March saluted Boone County for having a 59.59 percent return among 36 participants in the program statewide.
"It's evident that your staff's efforts in working with your WIC clients, the local farmers and farmers' markets has resulted in increased (coupon) redemption rates …," wrote Penny Roth, chief of the Bureau of Family Nutrition for IDPH.
She commended the health department staff for their "creativity, dedication and commitment" to the summertime program.