Annual flea market draws big crowds yet again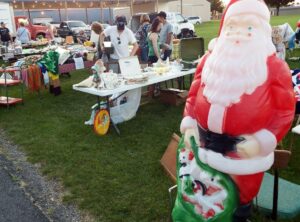 By Kathryn Menue
Editor
BELVIDERE – On Saturday, June 27, from 3 p.m. to midnight, people of Boone County and the surrounding areas gathered around the Boone County Fairgrounds to enjoy the gems awaiting them at the "Mid-nite Flea Market."
Vendors sold toys, posters, pictures, signs, games, antiques, collectable dolls, fine china, clothing sports memorabilia, books, crafts, woodwork, food, soap products, jewelry, furniture, and so much more.
Collectors, vendors, and ordinary enthusiasts who enjoy a good deal flocked the fairgrounds to uncover all of the treasures available at the flea market that happens only once a year for the past eight years.
The fairgrounds were packed with vendors lining the walking paths throughout the fairgrounds. Not to mention, all of the vendors crowding into two of the fairground buildings and the entertainment pavilion.
One of the vendors at the fairgrounds was Deadgar Winter, who came to promote his show, Deadgar's Dark Coffin Classics, which he said should be coming to Illinois very soon.
As for now, people can check out his show online at youtube.com to get a sneak peak of his horror driven show. To find out even more information about Deadgar's show, please visit: deadgarwinter65.wix.com/deadgar-winter.
For only $5, or $4 if people had the $1 off coupon, people could meet vendors like Deadgar and search through the collectables for hours to find the pieces of merchandise they just couldn't live without.
Many individuals left the fairgrounds with big smiles on their faces and bags full of goodies to take home and display.