Arcadia Publishing will publish book about Belvidere and Boone County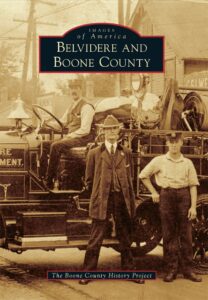 BOONE COUNTY – On Monday, July 27, Arcadia Publishing will add the book, Belvidere and Boone County, to its iconic Images of America series. In this book, the Boone County History Projects takes a look at the first 100 years of Belvidere and Boone County's history.
Although Boone County is one of the smallest counties in Illinois, it is rich in larger-than-life stories that grew from its prairies, forest, and streams. Its history includes a king of hobos, a huge wheel of cheese, and a business leader who manufactured some of the best sewing machines and bicycles ever built in the United States.
From the 1830s to the 1940s, Boone County rode booms and busts while steadily growing and attracting new residents with diverse backgrounds.
Images of America: Belvidere and Boone County includes information on how the county fair got started, look at historic images of the county's pioneers, and take a nostalgic trip back to the days of swimming at Marshall Beach.
Highlights of Belvidere and Boone County include: A portion of the profits are being donated to the Boone County Historical Museum, Ida Public Library, and the Belvidere Historic Preservation Commission.
The book also includes The Baltic Mill, one of the oldest buildings still standing in Boone County, built in 1835 and the Belvidere High School Band, 1929, won first place in a national marching band competition.
The Boone County History Project committee created this book. The committee consists of 10 members, including local writers, educators, genealogists, preservationists, and history buffs, who live and work in the Boone County area.
The authors include Joanna Dowling, Mike Doyle, Judy Ernest, Mike Frederiksen, Jillian Fuller, Douglas Heuer, David Kummerow, Kathy J. Miller, and Belinda and Lloyd Roberts.
These authors hope that this book, with so many fascinating photographs from Boone County's history, says volumes about our history.
They hope that the book will inspire the community's interest in the development and unique history of Belvidere and Boone County. Because of this book, they hope more residents will become actively involved in preserving and appreciating our county's heritage and history.
They also want readers to make personal connections to the information and images in the book, discovering themselves and their own links to the past within the pages of the book. We hope this book stands as a resource for those interested in Boone County history and "the way it was" for many years to come.
Books will be available for purchase at area bookstores, independent retailers, and online retailers, or through Arcadia Publishing and the History Press at (888) 313-2665 or online at www.arcadiapublishing.com. The book costs $21.99.
Arcadia Publishing is the leading publisher of local and regional history in the United States. Our mission is to make history accessible and meaningful through the publication of books on the heritage of America's people and places.
Discover more than 8,500 small towns and down-towns at http://www.arcadiapublishing.com.