Expanded Neighbors Night Festival returns to Poplar Grove July 25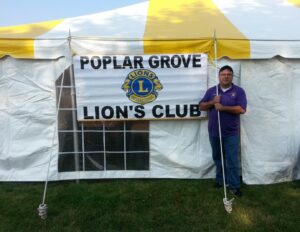 By Bob Balgemann
Reporter
POPLAR GROVE – It's changed a lot since starting in 1969 and it will be different again this summer.
The 46th Neighbors Night Festival has been set for July 25, a Saturday, at Lions Park off Illinois 173. Activities will run all day, starting at 8 a.m. with a 5K run and 3-on-3 basketball games on the new, concrete court at the Park.
Another new wrinkle will be the talent show, Poplar Grove's Got Talent, starting at 9 a.m. on a stage donated by NCLI, which is sponsoring the entertainment. Musical instruments will serve as prizes. Christine Babcock, a teacher at Poplar Grove Elementary School, is coordinating the show.
Contacts include www.facebook.com/Lionsclubpg and www.facebook.com/Poplar Grove.
A large tent once again will be on the grounds, filled with local crafts, businesses and vendors.
A Taste of Poplar Grove will be in there, too, featuring samples from Panda
Garden, Arturo's and La Esperanza. And don't forget Portillo's beef. All of that will be happening from 11 a.m. to 4 p.m.
Sometime during those hours Village President John Neitzel and possibly other village officials will be targets for a pie in the face.
A Bouncy House, face painting and other things for the younger set will be around most of the day. So will general family activities under the direction of North Boone Youth Sports.
Helicopter on grounds
A REACT helicopter from Mercy Health Systems will be on the grounds from 11 a.m. to 2 p.m., with demonstrations from local first responders such as the Citizens Emergency Response Team, along with Capron Rescue Squad (CRS) and North Boone Fire Protection District #3.
Fire District #3 also will have a static display of its equipment alongside the station at 173 and Hill Street, adjacent to Lions Park.
The sponsoring Lions Club will have its annual pulled pork dinner with beans and all the trimmings inside the tent, starting at 5 p.m. and continuing until all the food is gone
A large crowd is expected because of the entertainment coming through NCLI, a LED lighting organization out of Crystal Lake with contacts in that field.
There will be a Battle of the Bands from 11 a.m. to 4 p.m. with the winner getting a $1,000 prize and opening that evening for
Otherwise, from Las Vegas, the headline band. Otherwise plays hard and alternative rock and will be joined on stage by Too Fighters, A.D.D. and 9 Electric.
Fireworks provided by the village will be shot off at dusk.
Neighbor's Night started in 1969 as a village-wide gathering, a throwback to Sunday school picnics and barn dances of an earlier time.
It was initiated by a handful of Poplar Grove organizations and held downtown, behind Poplar Grove Elementary School. Carnival rides of years ago are gone, but grilled hotdogs are still a presence, being prepared by members of the Lions Club.
Responsibility for the event ultimately was assumed by the Poplar Grove Lions Club.
Club President Owen Costanza said proceeds from this year's event will go into the organization's charity fund and used to maintain the park.