Harlem's one-stop shopping site for registration, information
By Bob Balgemann
Reporter
MACHESNEY PARK – In three short days, Harlem School District 122 registered many of the more than 7,000 students who will be back in the classroom starting Aug. 12.
This is the sixth year for that new one-stop shopping approach, which also give parents and students information about a lot of what's coming up in the 2015-16 school year.
Programs such as "I Read," new partnerships designed to enhance the student experience, pre-school and post-graduation opportunities all are housed under one roof. To the surprise of many, the process runs smoothly and the hallways aren't crowded.
All of the elementary schools are situated in one cluster, their tables full of information about what's coming up this fall.
One of the programs being talked about a lot is called "I Read."
This is an early-grade reading program that matches volunteer mentors with students in kindergarten through fourth grade, and prepares those youngsters to read proficiently by fourth grade.
Volunteers work with a student 20-30 minutes each week and are encouraged to remain with their students through third grade.
Niki Milazzo, an I Read coordinator, said this is a partnership between District 122, Rockford Public School District 205 and the United Way. It is beginning its second, four-year cycle for children in kindergarten through third grade.
Youngsters are given 6-12 books a year to take home and build their own library. There were 88 volunteers during the 2014-15 school year, who completed 964 hours of mentoring.
While data is important, she said, "So are the relationships that are built between the children and volunteers."
Here is data that was gathered after the first year:
Kindergarten students increased 5 percentage points on the early literacy test for benchmark assessment.
2, Twenty-two first graders increased 15 percent on the early literacy test.
Twenty-six second graders increased 10 percent on the early literacy test.
Thirty-eight third graders increased 20 percent on the early literacy test.
Volunteers are needed. Those who are interested should contact the District 122 administration center at nicole.nelson@harlem122.org.
More partnerships
The District 122 stakeholder engagement office is beginning
its sixth year with a new director, Jason Blume. He has replaced Cathy Martin, the first to hold that position.
Connecting the school district with the community, through different kinds of partnerships, is a goal of the program.
A new partnership is between District 112 and First Community Credit Union. When someone finances or refinances his/her personally-secured loan through that institution, 1 percent of the amount will be donated to Harlem High School.
Through the Harlem Loyalty Program, vehicles serviced at Carz R Us receive a 5 percent discount, with 5 percent being donated to the school of the month.
Among those benefitting to start the 2015-16 year are Harlem Middle School in August; Olson Park Elemeentary School in September; Ralston Elementary in October; Harlem High School in November and so on through August/September 2016, with Marquette Elementary.
During registration elementary schools were clustered in one of the areas of the Commons, with each booth providing information as to what's coming up in 2015-16.
For example, Windsor Elementary School will be having its second Back to School celebration from 4:30 to 6:30 p.m. Aug. 1, with dinner and family entertainment.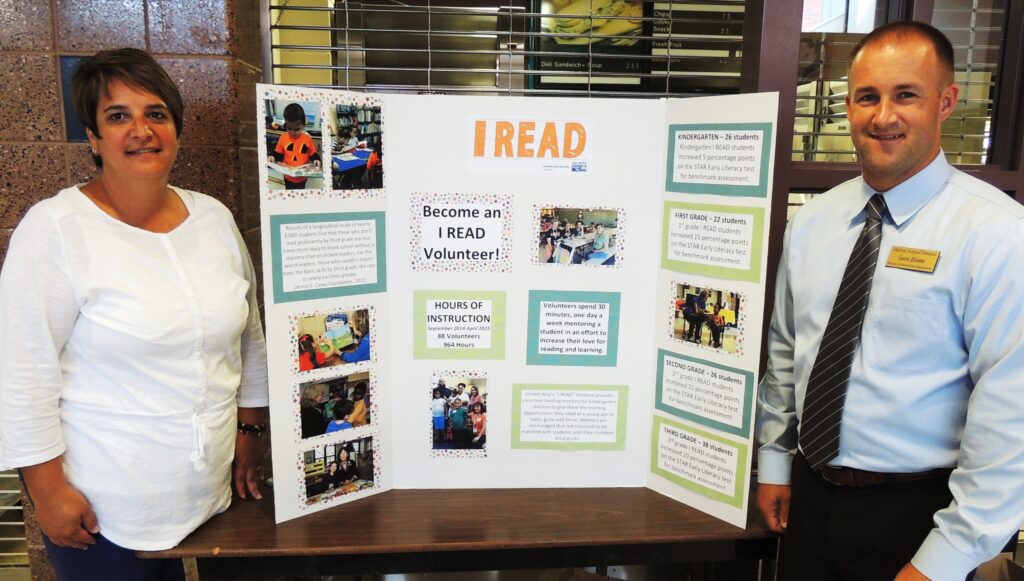 Bob Balgemann photo
From left – Niki Milazzo, an I Read coordinator, and Jason Blume, new director of stakeholder engagement for School District 122, show an display board with information about the I Read program at district elementary schools.