Music rules the day, night during Neighbors Night Fest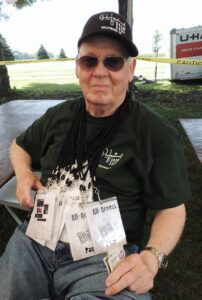 Bob Balgemann
Reporter
POPLAR GROVE – So far this summer has been a mix of sometimes rainy, sometimes cool and sometimes hot days.
Saturday, July 25 was a reminder that this is the good old summertime when the Poplar Grove Lions Club played host to the 46th Neighbors Night Festival at various points on its spacious park off Illinois 173.
Shady spots were sought out as the temperature pretty much hung in the upper 80s. Attendance was brisk, however, at the talent show and checking out what was inside the large tent, filled with a variety of vendors, businesses and politicians.
The first talent show took place in mid-afternoon with four entries. The winner was the last to perform and she was North Boone High School sophomore Kayla Seeber.
A singer who accompanied herself on the ukulele, she went home with a brand new guitar. Cash prizes were awarded to Carson Jones, who finished second; Christina Costanza, in third place; and Christine Babcock, who placed fourth.
Kayla was mobbed by family and friends after the show, being photographed by herself and in groups.
Her voice was an immediate hit with the 30 or so spectators who attended the event. Now 15-years-old, she said she's been singing since she was 12, self-taught both in voice and on the guitar and ukulele.
But she's planning to start taking voice lessons in the hope of making music a career. Not as a singer, though, but going to college and working in music therapy, working with cancer patients.
Later that evening she opened for the fireworks display, which concluded the day's activities.
Plenty inside the tent
There only was one empty table inside the large tent and that was because of a no-show.
There was food right off the bat, from Panda Garden, and a table where volunteers for the Belvidere/Boone County Food Pantry were serving up Chicago beef sandwiches with a bag of chips for $5. The food was donated by Portillo's, meaning all the proceeds went to the pantry.
There will be elections next year so state Rep. Joe Sosnowski, R-Rockford, was represented by legislative aide, Neeley Erickson. Next to her was the incumbent Boone County State's Attorney Michelle Courier accompanied by her family. She plans to run again.
Not far away, in a corner booth, was her challenger, former Boone County Board member Tricia Smith, a private attorney with a local practice.
Businesses such as Alpaca Pines, State Farm Insurance, Dytron Inc. and Tragg's Farm were there, along with the village of Poplar Grove, represented by village trustee Ron Quimby.
Village Administrator Diana Dykstra was in another corner of the tent, painting faces along with Roxanna Neitzel, wife of Village President John Neitzel.
Outside the tent was a table occupied by representatives of Manley Motors, which soon will be moving into the former Wolf Chevrolet complex at State Street and South Appleton Road.
The village is buying its current location at State and First Avenue, once the building has been demolished, with the plan to create a parking lot.
More people turned out that evening, since several bands came to perform on the large stage. The lead group was 9
Electric, with ADD, Too Fighters, Drop and Krash Karma serving as opening acts.
Music fans had an opportunity to go backstage – and out of the heat – to meet all of the performers before the concert began.
Lion Fred Potter, who came out from Chicago to lend a hand, was selling special passes for $5 each that allowed the purchaser to go inside air-conditioned village, where the bands hung out before the music started, to talk and get some autographs.
Poplar Grove Lions benefited from sales of the passes.