North Boone fire fighters heating up the summer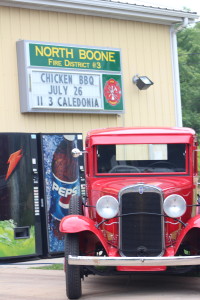 By Shelby R. Farrell
Reporter
POPLAR GROVE – North Boone Fire District No. 3 heated up the town of Caledonia with their annual chicken barbecue fundraiser on Sunday, July 26.
The all-volunteer fire station in Caledonia barbecued about 2,000 pounds of chicken and raised about $4,000 at the 41st annual fundraiser, which goes toward equipment and scholarships.
Ray Morse, a trustee and volunteer with North Boone Fire District No. 3, said the money raised at previous fundraisers has bought ropes, "green rescue equipment," sponsoring a prize trophy at the Boone County Fair and college scholarships for students at North Boone High School and Belvidere North High School.
"The scholarships can go to anybody who would like to go to school for a public service," Morse said. "We try to help everyone who applies. The scholarships are usually a minimum of $500."
Another big expense that the money raised could benefit is the station's new ambulance and EMS team. Morse said getting the ambulance and its team "up and running" is the goal this year.
While the ambulance is the long-run goal, he said the main goal of the chicken barbecue was to make back the expenses spent on the fundraiser itself.
"It's more of a community service," he said. "We are really community minded. We like to give back. We like to be involved, like one of the things we like to do is give kids helmets and coloring books."
Caledonia resident, Jeff Morelock, said he goes to almost all of the fundraisers that North Boone Fire District No. 3 hosts. He said it's important to go to these because it helps the fire stations get equipment that they might not be able to buy otherwise.
"They are able to pick out the stuff that they need," he said. "One thing that keeps me coming is that I enjoy the food. You can talk and see people you haven't seen in a long time. You can sit and talk with friends and neighbors."
Boone County residents can visit with each other and the fire district volunteers at the next fundraiser, the 14th annual Street Dance in Poplar Grove, on Saturday, Aug. 1.
The annual Street Dance is from 11 a.m. to midnight with live music from Clutch Cargo starting at 6 p.m., a raffle, a beer garden, food to buy and other festivities.
For more information, visit the North Boone Fire District No. 3 Facebook page.