Wings, Wheels Festival returns to Poplar Grove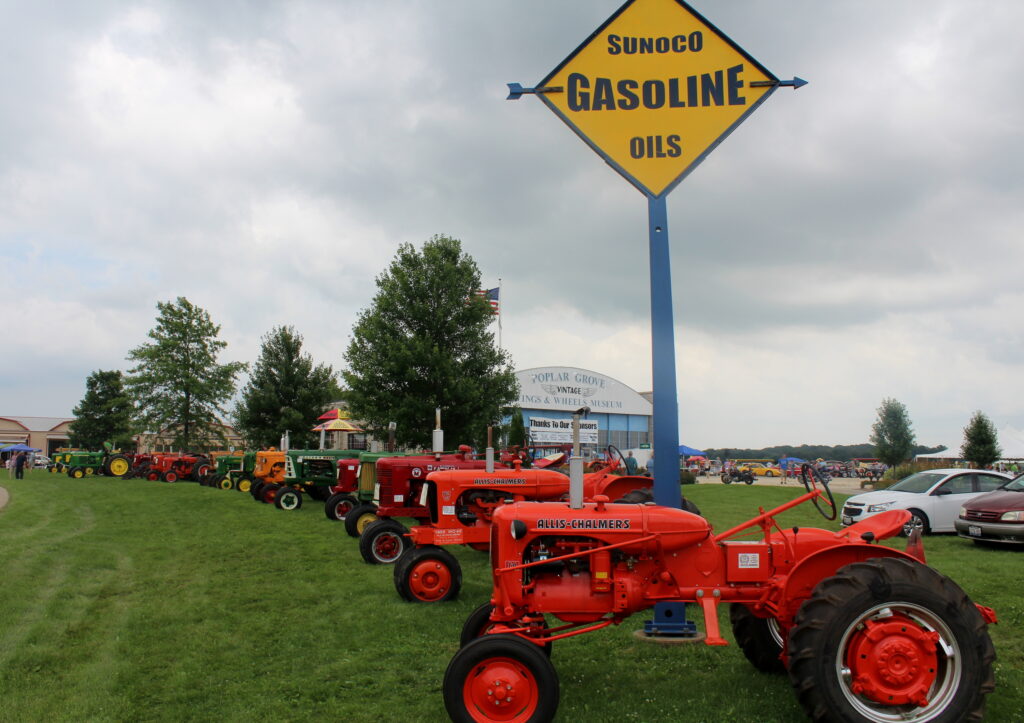 By Rhonda Mix
Reporter
POPLAR GROVE – On July 18, the Wings and Wheels Festival returned to the Poplar Grove Vintage Wings and Wheels Museum, located near the Poplar Grove Airport.
The event took place from 9 a.m. to 4 p.m. and had a good turnout, despite the temperamental weather over the weekend.
Between 1,500 and 2,500 people typically turn out for the festival – which has been running for the last few years – depending on the weather. Sixty-five volunteers were on hand to assist this year.
Festival-goers had the opportunity to admire a colorful and unique array of vintage airplanes, cars, motorcycles and tractors put on display by their fellow community members, while also enjoying other activities.
The day's events included tractor pulls, live DJ music, biplane rides, an open house for the Youth Exploring Aviation program, museum and gift shop tours, face painting, and food and drinks provided by Stockholm Inn and the Rockford Brewing Company.
One unique feature of the Wings and Wheels Festival this year was the pop-up museum – an outdoor setup where people were invited to bring treasured family heirlooms and other items to showcase family histories.
Judi Zangs, general manager of the Vintage Wings and Wheels Museum, said the pop-up museum is something the organization plans on continuing to feature at upcoming events.
"It's a neat idea. People can bring anything from their family histories to share," she said. "We are all interesting in some way or another."
The proceeds from the Wings and Wheels Festival, which were split with the Rockford Brewing Company, will be used to fund the museum's educational outreach and scholarship programs.
The Poplar Grove Aviation Education Association provides thousands of dollars in scholarship money every year to help people who are pursuing certifications or degrees in aviation and automotive industries.
"We are trying to increase outreach to schools, kids and adults in the community through events [like the Wings and Wheels Fest]," Zangs said. "We also trying to get more young people involved in fields such as aviation."
The Poplar Grove Vintage Wings and Wheels Museum attracts visitors near and far.
Dedicated to pre-World War II transportation history, the facility sits on land attached to the Poplar Grove Airport. The grounds feature several early 20th century airplane hangars and automotive garages as well as a number of plane and automobile displays.
"We want to share this museum with the community," said Zangs. "We like to think of the community as the social center of Boone County, smack-dab in the middle of it all. We want people to come here all year around and understand that this is a gathering place where we welcome everyone."
For the museum information, hours, admission fees and a full list of upcoming events, visit poplargrovewingsandwheels.com or call (815) 547-3115.