Timber Tina's "Chics with Axes"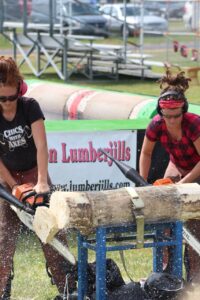 By Shelby R. Farrell
Reporter
BELVIDERE – Tucked away in the southwest corner of the Boone County Fair, chainsaws roared, water was splashed and wood was chopped all in the name of competition.
All summer, Timber Tina's World Champion Lumberjills – Chics with Axes hold demonstrations around the country at fairs and other events, where the all-women woodsmen team competes in teams of two in crosscut sawing, chainsaw races, axe throwing, underhand chopping and log rolling.
One team member, Lindsey Leisenring, also demonstrated a small chainsaw carving, which was mostly for comedic value.
"My favorite part of doing these shows would have to be teaching people something that they do not know," Leisenring said.
"A lot of people forget about our long-time logging history, and they're like, 'You just go down. You take a chainsaw. You go get a tree, and you cut what you need out of it,' but people don't realize what it used to take to be able to do all of this.
"Every event that we do, besides the chainsaws, which shows the new modern edge, but every event that we do simulates something that they used to do in the woods, and so it shows A – a new found competition that not many people know about, and B –the history that we came from that people went through just to be able to build their homes and make a living. A lot of people, they don't know about it, so if we can teach one person one thing at our show, that's the best part."
Timber Tina's World Champion Lumberjills – Chics with Axes competes in woodsman competitions around the world. Leisenring said the team probably has about 20 women in total, and they switch out for competitions and lumberjills shows depending on availability.
Katie Crecelius has been a part of the team for five years. She said she went to college with Tina's neice who introduced her to the sport, and most of the girls on the team joined woodsmen teams in college.
"Everyone who tries it loves it," Crecelius said. "It's such a unique sport, and we just have a lot of fun. My favorite is the log rolling. You can splash the other person and rock the log. You get to run, so it's a good workout. I think log rolling is the most fun."
Most of the women on the team will compete in more than one category but not all of them. Leisenring said most people specialize in either logrolling or chopping, but all of them love the sport.
"It's different," she said. "When people think sports, they think football, baseball, soccer, even golf. Golf comes into people's minds before timber sports.
"I just think, 'Wow, I can throw axes at targets. I can run on a log in water. I can swing an axe between my feet, use sharp tools to cut wood.' It's extremely unconventional, and the fact that anyone can do it and still enjoy it, and as long as you do it safely, there's absolutely nothing wrong with it. The skill is up to you. You're as good as you want to be."