4-H clubs do the robot at the Boone County Fair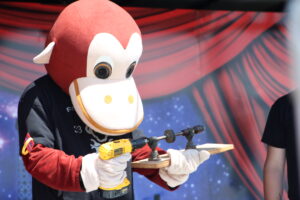 By Shelby R. Farrell
Reporter
BELVIDERE –While most 4-H clubs bring the animals they have raised to the county fair, the Boone County 4-H Robotics Clubs brought the robots they created to promote different way to get an education.
The Boone County 4-H Robotics Clubs have been raising awareness for education in Science, Technology, Engineering and Math (STEM) subjects every day of the Boone County Fair.
Under a tent just south of the Non-Livestock Building, the 4th through 12th graders encompassing the three 4-H Robotics Clubs in Boone County, the Atomic Chimps and Micro Chimps, Techno Tamarins and the Flaming Monkeys, have been showing off their mechanical ingenuity with the robots they have created.
The high school group, the Flaming Monkeys, also held half-hour demonstrations Tuesday through Saturday to educate the audience about their clubs. Chet Willsea, a member of the Flaming Monkeys, said it's important that people know clubs like the 4-H Robotics Clubs exist.
"All kids know about today is sports stars, but they know that they might not be able to actually do that, but with this you can," Willsea said. "It's good to get them to broaden their horizons beyond sports stars or movie stars, to see that this is a cool thing."
The Flaming Monkeys team has five sub-teams, building, programming, cad, electrical and media. Each sub-team depends on each other to be able to complete their robot, and it can give the students experience for real-world jobs.
However, Willsea didn't say the job experience was his favorite part. For him, it's all about the competition.
All of the Boone County 4-H Robotics Clubs are involved with the competition and education organization, For Inspiration and Recognition of Science and Technology (FIRST).
"This program actually started 20-something years ago, but it's not really been on a lot of people's radar because it doesn't have that flash or pizzazz," Matt Jenkins, a Flaming Monkeys mentor, said. "This is more about education, getting kids excited about science, technology and math."
Jenkins said all three of his kids joined the group, and the involvement even made his daughter change her mind when she chose a major at college. He said it helped his kids focus better and find a purpose in life.
"You get a lot of kids that might not be the athletes or that type, but this provides that same type of athletic atmosphere, the team cohesion, the comradery, the working together, that esprit de corps from working on a team that a lot of the kids normally wouldn't get," he said. "This program helps build that. It gives these kids some confidence."