4-H Dairy Steer Show shows off talented kids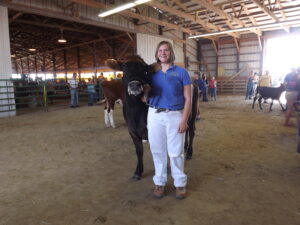 By Kathryn Menue
Editor
BELVIDERE – At 3 p.m. on Wednesday, Aug. 12, the Boone County 4-H held the Dairy Steer Show.
The classes of he steer were split up into the age or "maturity" of the steer. Later competitions split the classes into different age groups of the exhibitors showing the steer. Classes consisted of children ages eight to 11, 12 to 14, and 15 to 18.
As one Dairy Steer Show enthusiast, Katie Buss, explained, judging for the 4-H Dairy Steer Show consisted of which steer would produce the most and best beef.
"To the judge, the meat is all their good for," Buss said.
Buss continued to explain that the chosen winners would be the first in the line-up at auction, and that the exhibitors go home with a nice ribbon for all their care to the steer.
"The order will determine how they are auctioned," Buss said. "Like best of show will be auctioned first followed by second and third. Then, the rest will just be auctioned."
One of the exhibitors, showed a lot of promise with her steer. Sarah Hulstedt, 13, of Hulstedt Farms, won first place with her steer Ronald, in the Calf Steer Class.
Hulstedt also won third place in the Mature Steer Class with her steer, Mayhem.
Hulstedt and Mayhem later went on to win the first place prize in the Steer Dairy Showmanship category.
The judge was so impressed with Hulstedt's performance, he even asked her how many times a year she shows her steer, and was shocked to learn that Hulstedt only shows at the Boone County Fair.
"She tells me this is the only place she shows, but it looks like she shows a lot more than that," the judge said.
After four years of showing at the Boone County Fair, Hulstedt has really gotten the hang of it, winning all of these awards this year, along with winning a first reserve award at the last Boone County Fair.