4-H'ers sew up donations to Serenity Hospice & Home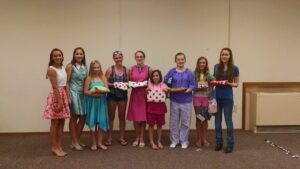 OGLE COUNTY – 4-H Clothing Day was held on July 18, and allowed all 4-Hers who signed up for Clothing & Textiles to participate in conference judging and the Fashion Revue. This year, Abby Mongan, Oregon, a long time sewer had a wonderful idea to have the 4-Hers sew corn bags while they waited to be judged. These corn bags, which can be used as hot and/or cold pads, were then donated to Serenity Hospice and Home for their patients to use, to help keep them comfortable. Abby and her sister Grace Mongan, both took the lead in this project by coordinating the efforts. Ogle County 4-H Members were able to create 18 total bags that were donated to Hospice!
4-H is the youth development program of University of Illinois Extension. For information, call the Ogle County Extension Office at 815-732-2191 or visit on-line at http://web.extension.illinois.edu/bdo. The 4-H year will begin again on Sept. 1. Youth, ages 5-18 by Sept. 1, 2015 can join for the coming year.