Belvidere class of 1963 celebrates 70th birthdays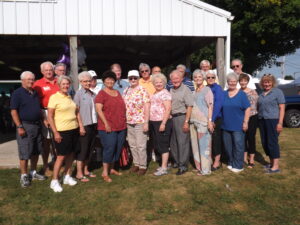 By Kathryn Menue
Editor
BELVIDERE – Balloons, decorations, presents, and memories brightened the morning of the 21 people who came to celebrate their 70th birthdays at the Grange Pavilion at the Boone County Fair on Thursday, Aug. 13 at 8:30 a.m. These 21 individuals were all a part of the Belvidere High School Class of 1963.
The celebration began at 8:30 a.m. with breakfast and plenty of conversation about old memories and cries of "Oh, I remember you…"
The celebration was made possible by Melaney Hermanson Reed who thought it would be a great way to get back together with everyone after so many years.
"She [Melaney Hermanson Reed] said all of us are turning 70 this year and we are going to have a birthday party!" classmate Letty Luhman said.
The party was a good idea and a nice hit for the class of 1963 which had classmates rolling in from 8:30 a.m. to 9:30 a.m.
With each new arrival, more presents were added to baskets so that everyone went home with a nice parting gift for their 70th birthday.
After everyone became reacquainted, the party came into full swing with Class President Bobby Mullins giving the opening welcome which read, "We gather on this Senior Citizen Day at the 2015 Boone County Fair to celebrate our 7th decade! Seventy is the new 50 it is said, so we'll go with that and enjoy the years ahead- for 70 sounds so much younger than 80!"
With the opening remarks completed, everyone signed a decorative plaque with the words "Happy 70th" spelled out in pennies and then proceeded to line-up for a picture to commemorate such a special day.
These individuals included: Melaney Hermanson Reed, Joyce Miller, Letty Luhman, John Null, Ron Wait, Carol Keeler Leikman, Kaye Berman Hughes, Jeanne Perkins Smith, Bonnie Weyhravch, Bobby Mullins, Ken Hicks, Paul Frykholm, Sharon Kelley Meserole, Janet Kasting Huff, Hubert Kays, Rick Davis, Larry Hemmens, Dan "Killer" Nihn, Glenn Smith, Paul Stauffer, and Lynn Wright.
Afterwards, each birthday person enjoyed singing "Happy Birthday," participated in the gift exchange of 70 items, recited "70 Memories" by Richard Ferguson, and listened to a review of the events in 1945 (the year they were born), which included the most popular names, news, and events.
For example, in 1945, the Boone County Fair was cancelled in order to prevent the rapid spread of polio.
Throughout the celebration, people could even browse through their old year book from 1963.
Later, everyone took a moment of silence to remember and honor those of the class who had died before them.
As the celebration dwindled, all of the partiers went on their way to enjoy the day at the 2015 Boone County Fair.