Boone County drivers dominate this year's fair demolition derby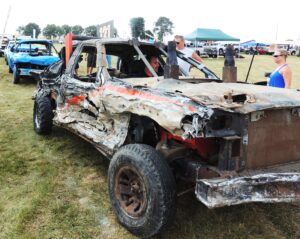 By Bob Balgemann
Reporter
BELVIDERE – Brian White of Belvidere set the tone Sunday, Aug. 16 for the two demolition derbies that helped bring down the curtain on the 2015 Boone County Fair.
In his first heat of the bone stock competition at the 1 p.m. show the announcer proclaimed, "Brian White has all the toys. Everyone else is in the sandbox."
As it turned out White, the defending 6 p.m. feature champion from the 2014 county fair, did have a memorable day this year.
He won the feature competition at the 1 p.m. show, which sent $2,000 his way, along with another $1,000 for having the best finish among Boone County drivers.
Timothy Zeigler from Machesney Park was second in the feature; John Jamison, Byron, third; Paul Walker, Belvidere, fourth; and Michael Vonderheide, Rockton, fifth.
In the 1 p.m. bone stock event Michael Roman of Capron came in first, which was good for $1,000, with Perry Morkel, also from Capron, in second. Jack Roman of Poplar Grove finished third.
Belvidere's Mike Lungstrom pocketed $3,000 in the 6 p.m. derby for winning the feature, which also meant he claimed the highest place among county drivers. Brian White came close to repeating as the feature champion, coming in second, which meant another $1,000 check for him.
They were followed by Chris Nelson, Belvidere, in third; Jack Johnson, Capron, in fourth; and Michael White, Freeport, in fifth. These finishes earned each driver $500.
There were no Top 3 county place winners in the 6 p.m. minicar event, which was won by Dustin Wolber of Dixon. Gerald Paul from Rockford finished second with another Dixon driver, Kale Hamill, in third.