Exhibits, prizes, free hotdogs, bring people to Night Out
By Bob Balgemann
Reporter
MACHESNEY PARK – Those who had been to National Night Out before knew how it worked.
At 4:30 p.m., 30 minutes before the event opened, there was a long line of people waiting to get in. Why was there a line when there was no admission charge?
"Because of the prizes," someone answered.
Once Mayor Jerry Bolin announced, "We're open," the young, old and in between rummaged their way to a booth where they obtained a ticket. They filled it out and deposited it at another booth. Later, there was a drawing for prizes every 10 minutes, with numbers announced to whoever happened to still be in the parking lot at the Machesney Crossing shopping center.
"Don't have to be here to win," another was heard to say.
Some weren't there when their numbers were announced. Unclaimed prizes remain at village hall, 300 Roosevelt Road in Machesney Park.
Among the prizes given out were gift cards from Target and Big Lots; 20 backpacks, 10 for boys and 10 for girls; four bicycles; golf passes from the Winnebago County Forest Preserve and Rockford Park District, along with gift certificates for various programs the district offers. Coupons for savings on products were supplied by Steak and Shake and McDonald's.
Volunteers served 1,200 free hotdogs complemented by a bags of potato chips, beverages and a cookie. All of that cost less than $300, with the village budgeting $4,000 for the entire celebration.
While the line persisted well into the early evening, those inside the established area played games and talked to cordial sheriff's deputies and officers at the various exhibits.
This was the 11th Night Out, sponsored by the village and dating back to when Linda Vaughn was mayor.
"This is what our community is all about," the current mayor said. "We can go to work tomorrow, but tonight we're going to play."
And learn, too, such as the Winnebago County Sheriffs Department's inmate work crew that performs various projects to save taxpayers' dollars.
Sgt. Russell Kirby said the crew was reinstated by the current sheriff, Gary Caruana, in April. not only to save money but to improve the county's appearance.
Work is done for taxing bodies, such as a village of township, as well as non-profit organizations.
"We set this up," Kirby said of the National Night Out tables, booths, tents and games. Workers also pick up trash along the highway and remove hazardous materials that obstruct the view of people driving cars and trucks.
Crews are at work year-round, mostly inside during the winter, in groups of three to six, the sergeant said.
Bomb squad robot
The sheriff's office displayed – and demonstrated – its bomb robot that is sent into buildings and other locations to locate and remove suspected explosives.
"It's regional," Sgt. Brian Harrison explained. "We use it about 30 times a year."
The robot was obtained in 2008 through a grant from Homeland Security. It covers a 10-county area and the sheriff's office has a mutual aid agreement with Rock and Green counties in Wisconsin.
"It's a big toy; kids love this thing," Harrison said. "It's all wireless and it's run out of a vehicle so we're away from the blast zone."
The robot, built by the subsidiary of an aerospace company, costs about $200,000.
Exhibits supplied by the sheriff's office, including a mobile command center, drew a lot of visitors as did the Ferris wheel, at the celebration courtesy of Ike and Lisa Trickie.
Volunteers were a big part of the event, including members of this year's Harlem varsity football team, who helped run kids games and took photographs of the young and old sitting inside a squad car.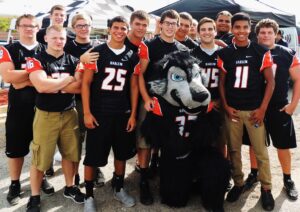 Bob Balgemann photo
Members of this year's varsity football team at Harlem High School helped out Aug. 4 at the 11th Neighbors Night Out sponsored by the village of Machesney Park.