Experience of working at Boone County Fair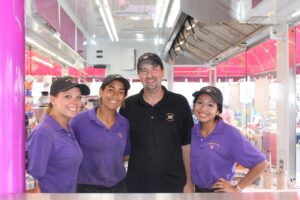 By Bailey Appelhans
Reporter
BELVIDERE – August brought fair week to citizens of Boone County, with many flocking there for animal showcases, food, and rides. For many fairgoers, however, coming to the fair this year meant returning to their jobs.
Erin Doane, 19, worked part-time at Taco Bell all summer, but has been looking forward to returning to her job at Fabulous Faces, an airbrush face-painting stand at the fair.
Doane had been getting her face painted there since she was about five, and the owner, Debra Lohr, a retired art teacher from Quincy, began to recognize her and offered her a job three years ago.
Doane's job includes taking money, running errands, and getting children ready for the face painting.
"I make sure the kids are as ready as they can be to get their face painted," Doane said, "whether it be clipping their hair out of their face, wiping their face clean or getting them emotionally ready for it, because it can be a little intimidating for younger children."
For Doane, getting a free season pass to the fair and making decent money are nice, but neither is her favorite thing about the job.
"I really love working with all the kids," she said. "They make the heat and standing for hours on end worth it."
While Doane usually works at Fabulous Faces across from the petting zoo, Ana Ocelotl, 17, works at the elephant ear stand near the entertainment building, usually from open to close. She recalls telling the owners she needed a job three years ago, and they offered her one on the spot.
"I'm a cashier, since [the elephant ear stand] is adored by Hispanics," Ocelotl, a bilingual said. "Sometimes they need someone to help them understand."
Ocelotl loves the fact that the owner, Brett Rubert, is from Belvidere, and his company, Parnell Foods, sponsors events like the talent show contest at the Boone County fair. While Ocelotl only works there for a week every August, the elephant ear stand travels year-round, even out of state to places like Miami.
"I really enjoy working there. It's so much fun and I've learned so much."
Both Doane and Ocelotl can be happy to return to school with a little extra money in their pocket, some good working experiences, and the ability to look forward to working at the Boone County Fair next year.