Garage consumed by fire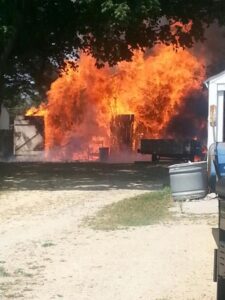 PECATONICA – A fire destroys a garage in Pecatonica Sunday afternoon. Firefighters were called to 423 W. 6th Street around 1:30 p.m. on Sunday afternoon. When crews arrived, the garage was engulfed in flames. Several propane tanks inside made the blaze worse.
One firefighter was taken to the hospital as a precaution because of the extreme heat.
The cause of the fire is under investigation.