New Casey's in Byron celebrates Grand Opening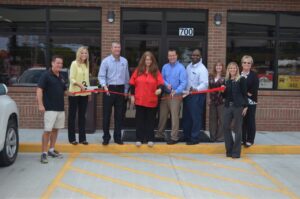 By Doug Schroder
Editor
BYRON – After 23 years in the same spot on the north side of Blackhawk Blvd., Casey's General Store has built a new store on the south side of the street, just kitty corner from the old building. On Friday, Aug. 14, they celebrated the Grand Opening of the store with giveaways and deals on items. Two employees stood at the door with trays full of turkey and ham sub sandwich samples. I had never had any of their food before. After sampling both the ham and turkey subs, I decided to go with a six-inch ham sub sandwich to buy before I left.
The event brought in District Manager Jeff Diarson and Area Supervisor Karim Tillage to attend the ribbon cutting. They also manned the wheel patrons could spin to win free prizes. Store Manager Tammy Thomas also assisted with the wheel while attending to her other duties. Byron resident Hillary Lambert and her children Chloe, Aydin, along with friends Eli Ingram and Sam Merrick each took a spin of the wheel and won a prize. They happened to be there when the Tempo was on hand for the ribbon cutting.
"The store needed to increase in size because of the increase in business. The needs of the town needed to be met," said Diarson.
To make room for the new location Casey's razed three houses and purchased an empty lot.
Members of the Byron Chamber of Commerce were on hand for the ribbon cutting also.
Casey's General Stores have been around since 1959 and have 1870 stores in 14 different states. The company believes in giving back to the community as Casey's and its stores contributed more than $4.5 million last year to many community and charitable organizations and events. Casey's also has fundraising packages that various groups can use to earn funds. Additional information and forms can be found at caseys.com.