O'Donnell, Thayer softball rivalry goes down to the wire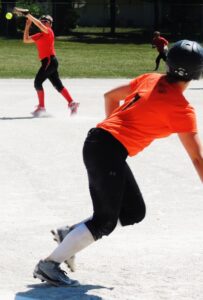 By Bob Balgemann
Reporter
MACHESNEY PARK – One never knows what's going to happen on the softball fields at the Wentland Sports Complex.
Not long ago Brassfield was 11-0 and had claimed the regular season Harlem Community Center Galaxy Girls Division championship.
With one game left to play, head coach Dave Brassfield and his players were eying an unbeaten season. But it was not to be as third-place Thayer, named for head coach Teresa Thayer, handed them a 9-3 defeat. Emily Deery sparked the win with an inside-the-park home run.
Then came the playoffs with Thayer (7-5) taking on O'Donnell (9-3), aka the Belvidere Buzz, Sunday afternoon in the semi-finals. The winner was to take on Brassifield (11-1) for the title on Aug. 3.
O'Donnell won a thriller, 17-15.
It was a game marked by wind-blown base hits and mini-dust storms, to go with temperatures in the upper 80s.
"Not many thought you would come back but you did," head coach Mike O'Donnell said afterward. "You've done that a lot this season."
He was referring to Thayer, sponsored by Buffalo Wild Wings, taking a 12-6 lead in the top of the fourth inning. Suddenly, after four had been completed, Park License Service-sponsored O'Donnell was up, 13-12.
Thayer was down 4-0 after three. Then it scored five runs in the top of the third inning on an RBI triple by Blake DeBartolo, RBI single from Destiney Schaefer (3-for-4), two walks and two errors.
Two seven-run innings
The seven-run fourth was sparked by Schaefer and Paige Yeoman with two-run singles and DeBartolo's sacrifice fly to center field. Errors on balls hit by Angela Larson and Sydni Lintz brought in three runs.
After its own seven-run inning, O'Donnell scored four times in the last of the fifth to lead, 17-12.
But Thayer wasn't through. A three-run sixth pulled them to within 17-15 when the two-hour time limit ended the game. Walks to Yeoman (2-for-2), Larson, DeBartolo and Megan Kampthorne were key to the rally, as was an RBI single from Nova Jackson.
Perhaps the most important play of the sixth was turned in by O'Donnell third baseman Mckinzie Sharp. She dove to her left to spear a line drive from Veronika Bienvenu for the second out.
"You saved two runs with that one," her coach said afterward.
A walk loaded the bases but the final out was recorded on a popup to first baseman Julie O'Donnell.
Leadoff batter Makayla House sparked the O'Donnell victory by getting on base five times with three walks, one of which forced in a run, a two-run double and an RBI single. She also scored three runs.
Bailey Kroos (2-for-5) had four RBIs, three of them coming because of aggressive base running following her bases-loaded single in the seven-run fourth inning.
Christine Chustak (2-for-3) drove in three runs and scored twice; Karli Tillema (2-for-3) scored twice and had one RBI; and Mikayla Giancola (2-for-3) drove in one run while scoring four times.
O'Donnell lost two previous decisions to Brassfield but they were close games and the head coach was figuring on a win Aug. 3. He joked that his players could burn the runner-up trophies they received Sunday afternoon, after they won the postseason tournament the following day.