Oldies, Kids Day in the spotlight on second day of fair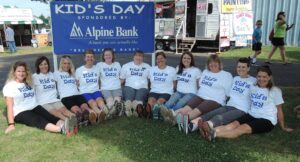 By Bob Balgemann
Reporter
BELVIDERE – There will be plenty of country music reverberating from various corners of the Boone County Fairgrounds during this year's fair, which runs Aug. 11-16.
Not so much with the Oldies. Except for Wednesday, Day 2 of the fair, when two groups specializing in that kind of music will be taking many visitors back to that simpler time in their lives.
For the younger set, Alpine Bank is sponsored the first of two Kids Days from 10 a.m. until noon in the area of the Gazebo and petting zoo, just south of the main entrance to the fairgrounds.
Later in the day, first up for the Oldies will be Skippin' A Beat, formerly known as the Love Notes, playing in the Entertainment Pavilion from 4 to 6 p.m. The pavilion is located next to Exhibit Building No. 1, just inside the main entrance to the fairgrounds.
The concert is free after you pay the $6 cost of admission to the fair. .
The group is from Rockford and has been devoted to the Oldies, tunes that were popular in the 1940s, '50s and '60s, for the past 25 years.
All of what they play was once in the Top 10, but mostly No. 1 sellers of their time, said Inis Bloomster, one of three who make up Skippin' A Beat. Others are her husband, Charles "Buzz" Bloomster and Carmen Matis.
Their background is canned music.
"We're not lip syncing," Inis Bloomster said. "We're the real thing. We're like a tribute band for a lot of groups." They aren't doing any Beatles songs yet, but she said they're working on it.
Lots of kids' activities
Earlier, Ernie Ratcliffe will return from Kansas City, Mo., to emcee Kids Day activities. He is the middle brother of Tom and Jack Ratcliffe, and has been coming back to be part for this event for more than 20 years.
This year he will be joined by the Winters Family, including Magic Mike, in overseeing the various games.
A group of 10 Alpine Bank employees will be serving as judges, wearing their white Kids Day T-shirts.
There will be two age groups: 9 and under and 10 to 12. Activities will include sack races, balloon blowing, bubblegum blowing, egg toss and watermelon eating.
First-place winners will receive trophies with cash prizes of
$3, $2 and $1 going to first, second and third-place choices. In addition, each participant will receive a surprise gift, courtesy of the bank.
A second Kids Day, with the same activities in the same location, will be held Thursday from 10 a.m. until noon.
This is a fair favorite of the yunger set, with 100-150 usually turning out on each day.
Laura Rae at night
In recent years, Wednesday night has turned out to be Tribute Night and that is continuing. Transit Authority, billing itself as the premiere tribute group to the band, Chicago, will be appearing in front of the refurbished Grandstand starting at 7 p.m.
Tickets are $8 each for Grandstand and Track seats, with a spot in the Bleachers costing $5.
More Oldies will be available at the Entertainment Pavilion, where Laura Rae and the Back Road Trio will be performing from 7-10 p.m.
This group has appeared at the fair before and this year, "We've moved up to the Entertainment Pavilion," said Mike Bratt, who put the band together. For the last two years they backed up a local favorite, Gene Shepherd and Band.
Laura Rae is the featured singer in the band that includes two guitars, a mandolin, keyboard, fiddle and bass. "We all do harmony singing," he said.
This band plays hits from the past, which "spark a pleasant memory," he said. Songs made famous by such artists as Jimmy Buffett, the Drifters and Clearwater Credence Revival are in their repertoire. Familiar songs include "Brown-Eyed Girl" and "Big, Bad Leroy Brown."
"We have a good time," Bratt said. "We engage the audience."
Orion Samuelson show
This busy Wednesday has a number of 4-H youth competitions at varying times, starting with the Open Rabbit Show at 8 a.m. in the Rabbit Showroom.
From noon to 1 p.m., WGN radio personality will do his noon show along with another local favorite, Gene Rhode and the Crossroads Band, at the Entertainment Pavilion.
Also starting at noon, and continuing to 5 p.m., carnival rides along the Midway will be available at reduced prices.
In addition to all that, harness and colt racing will be featured at noon at the Grandstand (free).
Yet another popular event, the antique tractor parade, will kick off at 5 p.m. in front of the Grandstand (free). At the same time horse (draft or light) team driving through an obstacle course will be going on at the Outside Horse Arena.