Plenty of local flavor on opening day at Boone County Fair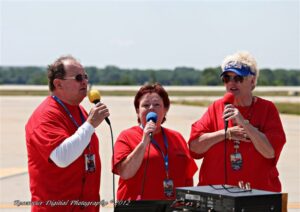 By Bob Balgemann
Reporter
BELVIDERE – As usual, the Boone County Fair will open with flair. A busy, multi-faceted fair begins Tuesday, Aug. 11 and doesn't let up until it closes Sunday night, Aug. 16.
There's plenty going on opening day, beginning with a 4-H horse show at 8:30 a.m., in the outdoor horse arena and continuing until the 2015 county fair queen is crowned later that night at the refurbished Grandstand.
One of the early-morning staples – the 4-H poultry show – won't be held this year. Lyle Lee, president of the fair association board, said recently that the show had been cancelled because of an outbreak of bird flu in surrounding states, which affected some 46 million birds.
"The fair board felt it best to cancel the poultry show to protect the exhibitors and the public from any potential problems," he said.
Fair officials are hoping that show, largest in the state, will return in 2016.
Meanwhile, all of the other livestock shows will be taking place as planned, Lee said. Usually there are 3,000 livestock and 6,000 non-livestock entries at the fair.
In all, there are upwards of 30 different shows and competitions among the youth of Boone County.
Admission is free until 4 p.m. on opening day for those who have obtained a coupon from members of the Belvidere Area Chamber of Commerce. Otherwise, it costs $5 to get in, which is $1 under the usual, daily admission.
A flag raising ceremony at noon at the grandstand will officially kick off the fair. Harness and colt racing takes center stage immediately after that, also at the grandstand, at no charge.
Music most everywhere
Music is a big part of the Boone fair – much of it free – with such entertainment on stages, in front of the Grandstand and on the grounds.
It gets under way Tuesday at the entertainment pavilion, next to Exhibit Hall No. 1, just inside the main entrance to the fairgrounds.
Miscellaneous Music by Hallie (free) starts it up at noon in the pavilion and continues until 2 p.m. She'll be followed by the M Brothers (free) with a variety show from 3 p.m. to 6 p.m.
In addition, Tuesday afternoon will start six days of free entertainment at the Flora Road Stage. Performers will be Mama's Wranglers, The Magic of Lance Gifford and the Flaming Monkeys 4-H robotics club. Gifford also will have a hypnosis show at 8 p.m. Friday and Saturday (Aug. 14 to Aug. 15).
Matthew Wundrow's 4-Piece Band will perform one day only, from 4 p.m. to 6 p.m. on Sunday, Aug. 16.
Percheron (Roman) riding exhibitions will be Wednesday through Saturday afternoons at either the pony or horse arena.
Set times for all of the fore mentioned acts change daily and will be posted at various locations around the fairgrounds. The only exception is the Monkeys, which will demonstrate their competition robot from noon to 1 p.m. Aug. 11 through Aug. 15.
Other performers will be roaming the grounds and include Timber Tina's Lumberjills, the Marvelous Mutts Performing Canines, Mr. D's Magic and Illusion, and Zoli's Chainsaw Woodcarving. All of them are free.
Pageant, more music
The Queen Pageant is one of the highlights of the entire fair.
This year 20 are entered in the Little Miss competition, with nine candidates to be queen for the coming year.
Spectators usually arrive at the grandstand early for the pageant, which is free. And this year, as they wait, they will be treated to The Real Beal's One-Man Band, which in reality involves two people.
They are Oskaloosa, L.A. residents Jeff and Nancy Beal, with Jeff playing all the instruments and both of them singing. Instruments, all lugged by Jeff, include a guitar, drums, tambourine and cymbals, "all connected as one," Nancy explained. "He works it with his feet."
Music drew the couple together some 30-years-ago when they were asked by a mutual friend – independently – to sing at a wedding. They were married 29-years-ago and have been entertaining for the past 15 to 20 years, she said.
"He saw a one-man band and was enthralled with it," Nancy said of her husband. "He worked on it for about a year and his first appearance was five years ago."
They play a variety of music including old country tunes along with newer ones, and 1950s rock and roll. "We can be all over the place, sometimes," she said.
Their sound system is in the cabinet of an old Wurlitzer juke box, whose lights flash in sync with the music.
This will be their first time at the Boone County Fair and so far this summer has appeared at six fairs, mostly in Iowa. She said they met members of the Boone fair board during a convention in Springfield and "we hit it off,"
After Tuesday night's show they will be appearing every day, strolling the fairgrounds with no scheduled performances.
Back in the Entertainment Pavilion, while the Pageant is underway, local entertainers Dale Rhode and his Crossroads Band will be making their 56th appearance at the fair.