Roscoe Police Dept. partners with Life Church to celebrate National Night Out
By Jean Seegers
Reporter
ROSCOE – Corporal Billy Weston of the Roscoe Police Department has been instrumental in putting together National Night Out for the last five years.  Each year since 1981, police departments throughout the country have sponsored the community-building block party to promote safety, better communication and partnerships with local police and fire department personnel.
National Night Out was held Aug. 4, at Life Church, 5910 Elevator Road in Roscoe. Co-hosting the party were the Roscoe PD, Harlem Roscoe Fire Department, and Life Church.
The free event featured hot dogs and hamburgers, chips, ice cream, soft drinks, watermelon, a car show, bounce slides, and raffles throughout the evening. Over 200 hamburgers and 250 hot dogs were consumed.
Rockford Bike Shop, Roscoe and Rockton Fire Departments and Roscoe PD held safety demonstrations Including child car-seat instructions, bicycle safety and a visit from the RPD "Pink Heals" squad car.
Weston said approximately 500 people attended the event. National Night Out has grown each year.
"I remember the first time we had it, four or five years ago. About 10 or 12 people came."
Weston extended a special thank you to businesses in the Roscoe area that stepped forward to make the evening a success:
McDonalds, Embroid This, Dairy Queen. F & F Tire, Imperial Palace , McGuire Auto Collision Spec., Culvers, Jerry's Auto, Whiffle Tree, Cataclysm Gains, Rockford Rigging Inc., Dollar General, Roger's Ready Mix, Bud and Sues, Erickson Auto Parts, Walgreens, Fiesta Cancun, Tropical Delights, Sophia' Restaurant, Kettle Chips, True Value, Dr. Stillwater, Rockton Fire Department,  Mobil Gas Station, Rockford Bike Shop, Back Yard Grill and Bar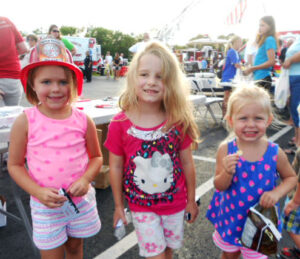 Kendall and Layla Berndt and Stella Neidermeyer were treated to hot dogs, hamburgers, chips, ice cream, cake and soft drinks donated by Roscoe area businesses. Held at Life Church, Elevator Road in Roscoe, the annual National Night Out drew about 500 children and adults.