Shih Tzu alerts sleeping man to fire; dog saved by firefighters
By Chris Anderson
North Park Fire
Dept. Photographer
MACHESNEY PARK – North Park Firefighters responded to a fire at the home of Larry and Marie Vyborny on Randy Road in Machesney Park on July 29.
Their Shih Tzu, JoJo, alerted the Vyborny's that the home was on fire by barking at Marie's husband, Larry, as he slept.
Larry then noticed JoJo sniffing the air, at which time the home's smoke alarm went off. Larry proceeded to his living room, which was black with smoke, where he was able to power off the home's air conditioning and furnace before being pulled out of the home by first responders as neighbors had called police and fire.
After being pulled from his home, Larry was unable to locate JoJo. He was later pulled from the home by North Park Fire Department firefighters Jason Street and Scott Kline, according to North Park Fire Deputy Chief John Cartwright.
JoJo was given oxygen by paramedics, who also checked his vitals, before releasing him back to the Vybornys.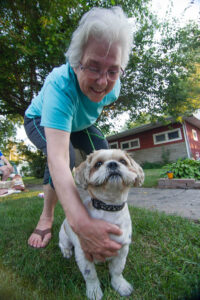 Chris Anderson photo – North Park Fire photographer
Marie Vyborny pets her dog JoJo after her house caught fire and the dog alerted them while sleeping. Firefighters went in after Larry Vyborny was pulled from the home while trying to find the dog, and saved JoJo.