Three members of Boy Scout Troop 619 awarded Eagle Scout ranking
By Jean Seegers
ROCKTON – It takes perseverance, maturity, hard work and discipline to attain the rank of Eagle Scout. Only 2 percent of Boy Scouts in America go on to attain the Eagle Scout status.
Three members of Boy Scout Troop 619 – Tyler Kerch, Aaron Jolly and Robert Petz realized that goal and were welcomed into the Eagle Scout Court of Honor on Saturday, July 25, at United Methodist Church in Rockton.
Family, friends and fellow Scouts attended the ceremony that began with the Presentation of Colors by the Boy Scout Color Guard, followed by an invocation by Father Paul Arinze, Pastor of Our Lady of the Assumption Church in Beloit. Scout Sam Praneis was Master of Ceremonies for the event.
The road to becoming an Eagle Scout is not easy an easy one. Tenacity, discipline and many hours of hard work are required. Each aspiring Scout is required to complete a specific number of badges, take a troop leadership role for at least six months, and complete a service project that must be reviewed and approved by the Boy Scout Council.
Jolly's Eagle Project involved helping restore Civil War Veterans' markers in the Rockton Township Cemetery.
Robert Petz constructed Flag Retirement Collection boxes that are available at Talcott Library and South Beloit City Hall.
Tyler Kerch built bookshelves for the Children's Clothes Closet at the Rockford Food Pantry.
During Saturday's ceremony, Joe and Lisa Jolly, Robert and Jen Petz and Michael and Jan Kerch were presented pins by their sons. The parents then placed the Eagle Scout scarf around their son's shoulders.
Members of the U.S. Marine Corp talked about the similarities of requirements for Marines and Eagle Scouts. The marines presented each of the young men with a special KA-Bar knife.
Troop 619 Master Scout Michael Kerch thanked the parents and supporters and welcomed the young men into the Eagle Scout Court of Honor.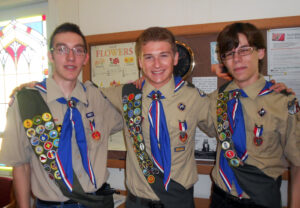 Jean Seegers photo
Robert Petz, Aaron Jolly and Tyler Kerch were inducted into the Eagle Scout Court of Honor during a ceremony at the United Methodist Church, Saturday, July 25. The three young men have been involved with the Boy Scout Program since they were 9-year-old Cub Scouts. They recently completed the requirements, including service projects, for becoming Eagle Scouts.