Edwards Apple Orchard opens with great enthusiasm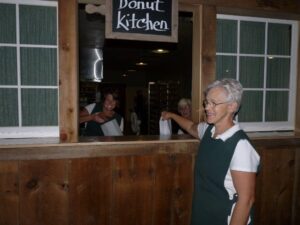 By Kathryn Menue
Editor
POPLAR GROVE – The weather has begun to tease everyone with the fluctuation that means fall is coming. With the cooler temperatures creeping in and out, and the wind picking up momentum to break the changing leaves from the trees, the rush of getting in all of the fall activities is beginning.
Soon, the leaves will be gone and replaced with icicles and the grass will have died under the piles of snow being shoveled off the beaten path. Before that, everyone will get to enjoy the fall festivities including the wonders of Edwards Apple Orchard located at 7061 Centerville Road in Poplar Grove.
On Friday, Aug. 28, Edwards Apple Orchard signaled the start of the fall season with their grand opening for the year.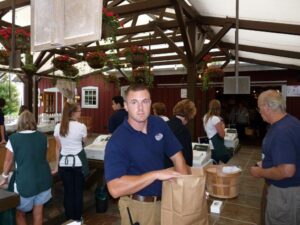 The scent of the fall wafted through the air in the scent of fresh apple cider, apple donuts, pulled pork, fudge, and all of the sweet, irresistible concoctions Edwards Apple Orchard offers.
The desirable foods, the cute knick knacks, and the variety of activities that Edwards offers every year, drew crowds by the thousands.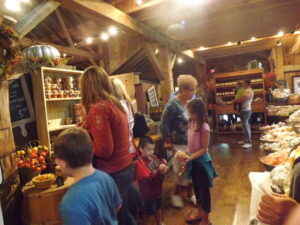 One Edwards Apple Orchard employee said that they served more people on opening day than anyone was expecting.
"It was a pleasant surprised," the Edwards Apple Orchard cashier said.
The dense crowd was a surprise with people crowding into every space available.
Cars filled the main parking lot and half of the overflow parking lot across the street by one o'clock and the employees said that the crowds had been like that all day since the doors opened at 9 a.m.
Even with the cloudy weather threatening to dampen everyone's day with pending rain, car load after car load pulled up to enjoy the wonder that is Edwards Apple Orchard.
With all of the commotion occurring at Edwards, it was easy to see why everyone wanted to come opening day.
Edwards had plenty of food to sample, soothing country music played with a soft violin in the background that tugged on your heart strings, kids could explore the animal pens, or play on the immense play ground, tours could be taken on wagons, and good conversation could be found everywhere you turned.
Much fun is still to be had by all until Thanksgiving when Edwards closes its doors until the 2016 fall season. Edwards is open daily from 9 a.m. to 6 p.m.