First Congregational Community Church reaching out to community
By Marianne Mueller
Reporter
ROSCOE – First Congregational Community Church is reaching out to the community in a unique manner during this year's Roscoe Lions Club Fall Festival.
They are hosting a clothing drive, plus a fresh produce and food give away. Young ones are invited to use imaginations at a craft table.
Behind the church sits a special garden which was developed from loving hands of church members.
When the concept of building a garden was first introduced a call went out to members to bring in manure. Many different farmers in the church jumped at the chance to help out.
Six raised beds are full of fresh produce. In the first year a spring garden was planted. This year a two seasons garden has been added. Turnips, carrots, beets, chard, lettuce, peas, onions and potatoes make up the spring garden. Cucumbers, summer squash, zucchini, two beds of tomatoes and beans fill the two seasons garden.
Children learned the basics of gardening in a different way. They planted sunflowers, helped to plant peas, watered; which is most crucial and fed the birds all while learning. Teenagers helped build the boxes that surround the garden.
Gracing the front section of the garden are two boxes with rows of flowers in them. Staying true to nature these act as an attraction for pollinators which also help in the vegetable gardens and plant life.
New in the churches garden conservation plans is to compost.
"At least half of the people in the church have some relationship with the gardens. The entire church fully supports the project. Primarily it was designed to feed the poor, but also has multi-dimensional purposes, "said member Susan Richards.
"This project has pulled our church together. We are happy to have people walk through the garden and to give us suggestions for future expansion. We are hoping to grow the garden in a global way. "
The Old Stone Church food pantry and the Beloit Domestic Violence Center are two missions who benefit from growing garden vegetables. "Both organizations are in very great need of help on the lines of fresh food. We are also happy to accept home grown foods from the community. It is a joyful surprise to see more people bringing home garden produce to our church, "said Richards.
All are welcome to stop by the First Congregational Church on Saturday, Sept. 12 anytime from 10 a.m. into the evening, or on Sunday from noon until 4 p.m. to find new wardrobe pieces, to pick up fresh produce or for young ones to conjure up a special project.
Enjoy free flavored water made by using natural garden products. Pamphlets full of information on healthy eating complete with unique produce recipes will also be available. Bags of dried herbs and dried seeds, azaleas and marigolds offer more options.
Donations of clothing items including costumes, and shoes in all sizes will be accepted. Items taken in are being given to anyone who needs some fresh new wardrobe pieces. Everything is going to a new home with someone who needs and appreciates it.
This event is being offered free to the public but a free will offering would be accepted.
Pay a visit to the First Congregational Church where they are reaching out to the community!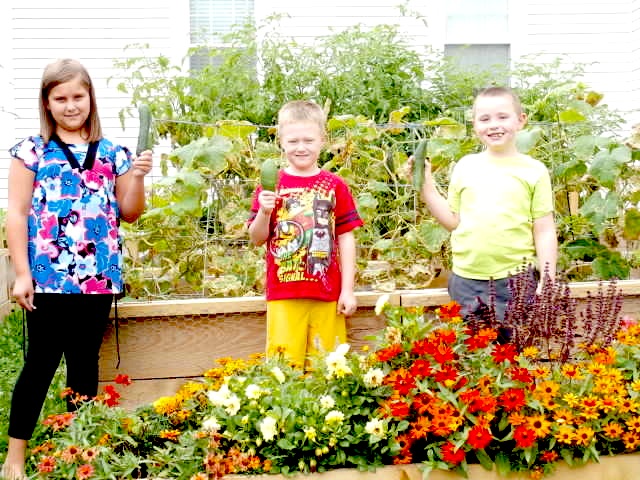 Marianne Mueller photo
Bryttany Smith, Thomas Bolar and Vincent Bown stand in front of the gardens in the yard of the First Congregational Community Church.