Ida Public Library releases fall programming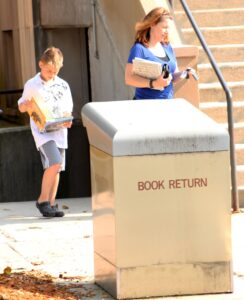 By Shelby R. Farrell
Reporter
BELVIDERE – Even after the bell rings and a new school year began, the Ida Public Library in Belvidere invites people of all ages to broaden their educations and their horizons.
The library released its schedule for the fall at the beginning of September.
Most of the programs haven't changed from last year, such as storytimes and the various teen and tween clubs, but Library Director Debbie Bloom said a few new programs have been added to the schedule, such as NaNoWriMo on Nov. 12 for National Novel Writing Month and Stories aboard the Titanic on Sept. 16.
"These programs are the best way of serving what the community is looking for," Bloom said. "What we've been doing has been working well, according to the survey we did in the community, so we didn't want to change any of that, but there are a couple of new things.
"We do have fewer programming in the fall. Our biggest programming is definitely in the summer, but we still have good attendance during the school year."
While the library has fewer programs in the fall and not many of them directly related to education, Bloom said the library could be one of the best resources for those looking to learn.
"We don't offer tutoring ourselves, but as kids come in we want to help them, and they can use all of our resources," she said. "We can help them with the computers and finding sources for research. Kids don't always know where to look, and we can help with that."
The Ida Public Library's resources and programs are available for not just kids in school, but teachers, parents, people interested in going to school, and even children too young for school.
For its youngest patrons, the library is launching a new school-related program on Sept. 21 called 1,000 Books before Kindergarten.
The program is through collaboration between Ida Public Library and libraries from surrounding areas, including Cherry Valley District Library, Rockford Public Library, and the North Suburban Library District, which Bloom said is the biggest collaboration the Ida Public Library has experienced.
The early childhood reading program is part of a national movement to improve literacy in children and to build better bonds between children and parents, according to the 1,000 Books Before Kindergarten official website.
"It's an effort to encourage parents to read with their kids," Bloom said.
"The number of books might intimidate some people, but it's not necessarily all different books. You can read for an hour every night for the first five years before kindergarten. Reading is the best way to prepare for school. Being literate is so important to success in life."
To learn more about the Ida Public Library fall programs, visit the library website at idapubliclibrary.org.