Lions Club Fall Festival brings summer activities to a close
By Jean Seegers
Reporter
ROSCOE – Fall may not officially arrive for another week or so, but the annual Fall Festival in Roscoe always signals the end of summer activities.  The fundraising event, sponsored by the Roscoe Lions Club was held in Leland Park, Sept. 11-13. Admission was free.
Visitors enjoyed country music from "Southern Charm," rock rhythm and blues from "Rockin Horse, and electric acoustic music from "Kat."
The event featured food from the Lion's Café plus vendors selling burgers, grilled sweet corn, pork sandwiches and more on the carnival grounds.
Local and area small business representatives, political candidates and organizations were under the big yellow tent selling their wares, handing out information and answering questions.
The Bingo tent was busy all weekend with local dignitaries calling the numbers.
"Bubbles the Clown" led costumed children around the festival grounds on Saturday morning.  Bubbles presented a stage show following the parade. Prizes were awarded for best costume.
Sunday's activities featured an early morning pancake breakfast at Leland Park sponsored by United Methodist Men, followed by the Lions Festival Parade down Main Street beginning at 11 am.
Visitors had the opportunity to win cash and merchandise prizes with drawings every 15 minutes throughout the weekend. Grand Prize was $5,000 cash, second prize, $1,500 and third prize, $1,000.
A spectacular fireworks display wrapped up the weekend of fun and activity.
The Roscoe Lions Club is a not for profit entity that raises money for scholarships, organizations and special interest groups in the Roscoe area. In 2014, the Roscoe Lions club donated a total of $12,923.94.
Club president Rhonda Tierney said the group would welcome new members.  If interested, call (815) 623-3513, or visit  /www.roscoelionsclub.com for information.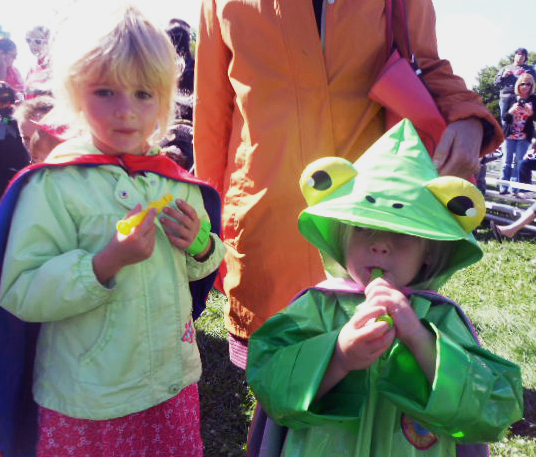 Lucy and Caroline took part in the Fall Festival Kiddie Parade, Saturday morning in Leland Park. Dozens of costumed children marched around Leland Park then attended a stage show presented by "Bubbles" the clown.