Local resident wins Illinois 4-H Foundation scholarship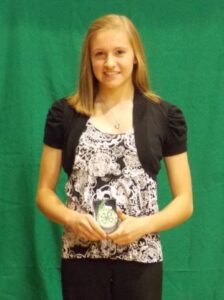 BELVIDERE – Eight Illinois 4-H members were selected from a pool of 90 applicants to receive a $1,000 scholarship from the Illinois 4-H Foundation.
The presentations were made during the Illinois 4-H Foundation Recognition Event held Saturday, Aug. 15 at the Illinois State Fairgrounds.
The Legacy of Leadership Scholarship is based on lifelong 4-H accomplishments, leadership, community service and educational goals of Illinois 4-H members.
A ninth $1,000 scholarship, the Illinois 4-H Livestock Scholarship, was awarded to a 4-H member for outstanding work in the livestock project area.
The winners include Rhiannon Branch of Luka in Marion County, Thaddeus Hughes of Shirley in McLean County, Emily Irwin of Belvidere in Boone County, Kevin Kappenman of Decatur in Macon County, Angelica Lebron of Bolingbrook in Will County, Cameron Parks of Bloomington in McLean County, Morgan Rich of Mackinaw in Woodford County, and Anthony Warmack of Marseilles in Grundy County.
Katie Miller of Cambridge in Henry County was the recipient of the livestock scholarship which is sponsored by LA-CO Industries.
The Legacy of Leadership scholarships were provided by generous donations from Lila Jeanne Eichelberger, Farm Credit Illinois, Keith Parr, Tim and Belinda Carey, Kevin Carey, Dorsey Dee Murray, the Nellie R. McCannon Trust, Nann Armstrong, and the Legacy of Leadership Endowment said Angie Barnard, director of the Illinois 4-H Foundation.
Branch is a 10-year member of the Showstrings 4-H Club and the Omega Shamrocks 4-H Club, as well as a member of the Marion County Livestock Judging Team where she was a member of the first place national livestock judging team. She was a National 4-H Congress delegate. She is attending Kaskaskia College toward a degree in Agricultural Communications.
"Without 4-H, I would have never found my passion in life," Branch said. "It is through my 4-H projects that I learned to communicate and advocate for agriculture."
Hughes is a nine-year member of the Linden Lead'em 4-H Club and the Team Metal Cow Robotics 4-H Club where he focus his project work in the area of science, engineering and technology. He was a National 4-H Congress delegate. He is pursuing a degree in mechanical engineering to add to his vast computer engineering experience.
"The leadership and teaching experiences afforded me insight into what gets people into technology and what makes for a fun challenge," Hughes said. "With my leadership and drive, we have taken our community's STEM education into the modern era and beyond."
Irwin is an 11-year member of the Udder 4-H Club and has added the National 4-H Congress and National 4-H Dairy Conference to her list of accomplishments. She attends Kaskaskia College where she is on the dairy judging team and plans to complete a four-year degree in Ag Business or Ag Communications.
"I credit 4-H with helping me develop critical skills including public speaking, teamwork, and responsibility which will help in my future career," Irwin said. "Being involved in 4-H and working on my family's dairy farm have been the reasons I have been able to learn and achieve so much."
Kappenman is an 11-year member of the Long Creek Critters 4-H Club and the Macon County Ambassadors. He plans to study Biomedical Engineering as a pre-med student at the University of Minnesota.
"4-H has always prevailed as a dominant molding tool for my life," Kappenman said. "The ability of youth to lead other youth by example is an important one to the development of character and many other important traits."
Lebron is a seven-year member of the 4-H 4-JOY Club where she is taking 23 4-H projects this year. She was an Illinois delegate to National 4-H Conference. She plans to major in history and minor in political science in college.
"I strongly believe that if you want to make a change that will impact the next generation," Lebron said, "you must know history."
Parks is a 10-year member of the Home Spun 4-H Club and the Stylistics 4-H Club, as well as a member of the air rifle, archery and shotgun Shooting Sports 4-H Clubs of McLean County. He was a National 4-H Congress delegate. When he completes his associate's degree in science, he plans to earn a bachelor degree, majoring in music performance and fashion design.
"Over the years I have begun to see that almost everything I do and have done has been influenced by my participation in 4-H," Parks said. "It has also allowed me to learn many skills, but it has also challenged me to be creative and to risk thinking outside of the box."
Rich is a 10-year member of the Go-Getters 4-H Club and was a National 4-H Congress delegate. She plans to attend Greenville College and major in digital media with a focus on film.
"I want to be able to make movies and television that inspire people and really makes them think," Rich said. "I hope that one day someone can point to my work and say that I helped to inspire them to follow their dreams and pursue the career they truly want."
Warmack is the 10-year member of the Homes Cool Kids 4-H Club where he takes 18 different 4-H projects. He plans to attend community college, then transfer to complete a bachelor's degree in natural resources, before pursuing a master's degree at the University of Illinois.
"My most important 4-H accomplishments are the ones which can't be traced to any particular award or position held," Warmack said.
"My most significant accomplishments stem from an idea that I learned in 4-H; that you don't have to be in a position of power in order to lead or help people."
Miller is a 10-year member of the Cambridge Champs 4-H Club and plans to attend Black Hawk College studying ag science before pursuing a bachelor degree in ag business.
"I know 4-H is a great opportunity for youth," Miller said, "and I would like to help the youth of my community become involved."
About 4-H
Illinois 4-H strives to help youth learn skills for living. University of Illinois Extension provides 4-H programs in every county in Illinois. Illinois 4-H aims to impact the lives of 200,000 youth each year through sustained learning clubs and groups and short-term programming.
About Illinois 4-H Foundation
The Illinois 4-H Foundation's mission is to build relationship to generate financial resources for Illinois 4-H.
Funding from individual donors, our Illinois 4-H Project Partners, companies, and friends of Illinois 4-H help the Foundation support statewide programming initiatives along with scholarships, assistance to National events, grant opportunities, Teens as Teachers and assists us in filling funding gaps.
For Further Information please contact Illinois 4-H Foundation Director Angie Barnard at (217) 333-9295 or Assistant dean and Director of 4-H Youth Development Dr. Lisa Diaz at (217) 333-0910 or Extension Media Communications Specialist Judy Mae Bingman at (217) 300-2113.