NASA astronaut to be special guest speaker at 2015 Senior Expo
Former NASA astronaut Joseph Tanner will share his story "Life in Space" with Senior Expo guests at 10 a.m. on Friday, Sept. 18 on the Senior Expo stage.
Illinois native Joseph Tanner began his flying career as a U.S. Navy jet aircraft pilot after earning a bachelor of science degree in mechanical engineering from the University of Illinois.
He was then employed by NASA at Johnson Space Center for eight years as an instructor and research pilot and sixteen years as an astronaut.
Joe flew four missions on the space shuttle with one being to the Hubble Space Telescope and two to the International Space Station.
During his four missions he performed seven spacewalks or EVAs totaling more than 46 hours.
Currently, Tanner is a Senior Instructor in the Aerospace Engineering Sciences Department at the University of Colorado in Boulder.
He teaches a two-semester Graduate Projects course to students at Masters and PhD levels.
The students work design projects in the areas of human spacecraft, small satellites, and unmanned aerial vehicles.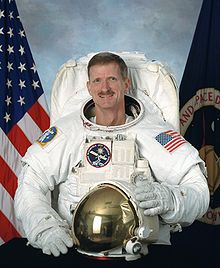 Courtesy photo
Illinois native and accomplished astronaut, Joseph Tanner will be the special guest speaker at the "Launch Your Dreams" themed 2015 Senior Expo.